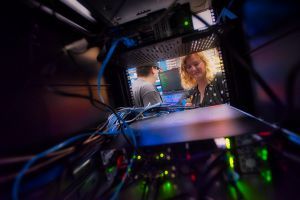 Published: 09-26-2019
By Troy Moon, Pensacola State College
Robert Pratten might be the scariest instructor at Pensacola State College.
No, not that way. The PSC cybersecurity instructor is a super nice guy. Warm. Open. Plenty of great stories.
But when the stories turn to cybersecurity and the dangers of cyberattacks to individuals, companies and governments, Pratten's dark stories can chill the bones of anyone who uses a cellphone, computer or even drives a car.
"It's easier to hack a car than your cellphone,'' Pratten said with a mischievous grin. "They have Bluetooth and wireless systems. You can take over someone's car if you want and overload the car's computer. Hit the brakes. Turn on the turn signals. You can gain control."
But what about an older vehicle? Maybe a 1997 Nissan truck?
"I don't care," Pratten said. "It doesn't matter. They had computers back then."
See, scary stuff.
But that's why Pensacola State teaches cybersecurity. To help prepare a trained, educated technological army of computer scientists to battle hackers on all electronic fronts.
"When you realize how vulnerable this stuff is, you want to go home and turn everything off,'' said Pratten, a retired U.S. Army veteran who has taught at Pensacola State for 13 years. "But we can't live like that."
Pratten's students have heard all of the horror stories.
"We were aware of all this when we first started,'' said cybersecurity student Connar Moore. "We always ignored it like everyone else."
Not anymore.
"You see how often hacking takes place, and you learn how easy it is and you make changes," said student Nathan Mathias. "I always turn Wi-Fi and Bluetooth off if I'm in a public place. If I have to use public Wi-Fi, I make sure I'm not doing anything involving banking, or using personal information."
Pratten said most of his students learn quickly about the dangers of public Wi-Fi and Bluetooth networks.
"You have to think like a bad guy or you're not going to survive," Pratten said. "Every time I come by, these guys turn all their stuff off."
Since 2016, Pensacola State has offered a Bachelor of Applied Science Degree in Cybersecurity. Program graduates will be prepared to earn 17 industry standard certifications. Some can even be earned while in the program. The cybersecurity program teaches students about security network technologies and operating systems, security management, databases, risk management, ethics, security testing and much more.
The bachelor degree level program consists of 84 credit hours of cybersecurity coursework, and 36 credit hours of general education curriculum. PSC also offers an associates cybersecurity degree.
The field is one of the fastest growing in the United States, with the U.S. Bureau of Labor Statistics predicting there will be a 32 percent increase in cybersecurity jobs from 2018 to 2028. The median pay in 2018 for information security analysts – the type of job cybersecurity students will fill – was $98,350.
Total tuition cost for the bachelor of science program is $10,000.
Connar said she just sort of "stumbled into" cybersecurity.
"I knew I wanted some sort of science field,'' said Connar, who graduates with her bachelor of applied science degree in May. "I want to make an impact on the world, but I didn't know how to do it. Now, in my own way, I'm using my brain to help stop the bad guys."
Pratten said everyone needs to be concerned about cybersecurity issues, not just those in the field. An easy fix is making passwords that are hard to hack.
Is a pet name or favorite grandchild a good password?
"Yeah, right," Pratten said. "Grandparents are the easiest to hack and are often targets. They like to talk, so if you listen for 10 minutes and you can probably have their password."
But the battle against cyber bad guys is ongoing as the technology advances.
"No system is ever foolproof," Connar said. "But we make them as foolproof as we can."
For information on Pensacola State's cybersecurity program, contact Robert Pratten at (850) 484-2523 or rpratten@pensacolastate.edu.