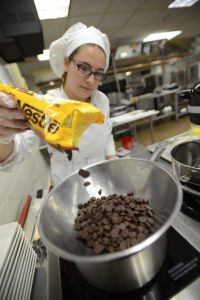 Published: 06-13-2017
Treats from the Culinary and Hospitality Club at Pensacola State College will sweeten the Choral Society of Pensacola's "A Toast to Summer" at 7 p.m., Friday, June 23, at Artel Gallery, 223 Palafox Place.
Come to the casual event and listen to live music while enjoying Artel's exhibition, "It's Music to My Eyes," sipping champagne, and sampling an array of delicacies prepared and served by the Culinary and Hospitality Club.
Among the savory items on the menu are bruschetta, onigiri (rice balls), German chocolate cookies, chocolate cherry cupcakes, mini apple turnovers and salted caramel squares.
Working with faculty advisor Joni Verlin, the club's 20-plus culinary and hospitality students explore career options through participating in special events, competitions and fundraisers such as "A Toast to Summer."
Club president Ciara Silva says, "Sometimes you don't know what you like until you have that real-life experience catering or cooking or serving or marketing. With our events, you can experience those things first-hand."
Culinary and Hospitality Club members have also competed in the Great American Chili Cook-Off, earning second place in the Peoples' Choice category, and in the Gulf Coast Kid's House Chocolate Fest, where they created chocolate-dipped bacon and cherry basil-filled cupcakes.
"A Toast to Summer" is sponsored by Bruce Baker, MBA, RE/MAX Infinity, and proceeds will support Choral Society programs and activities.
Tickets are available at www.eventbrite.com and at the door.
For more information, email Choral Society Executive Director Charlie Smoke at charlie@choralsocietyofpensacola.org.