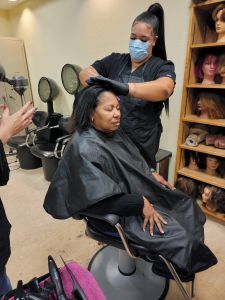 Published: 11-17-2021
Troy Moon, Pensacola State College
If you're going to a swanky ball, you want to have your hair all gussied up.
Pensacola State College cosmetology students helped eight female U.S. military veterans look their best for the All Services Ball ─ stylin' and profilin' the veterans' hair the day before the big soiree.
The veterans are residents of a shelter operated by the nonprofit Honor H.E.R. (Honor, Empower, Rebuild) Foundation. The local organization helps provide women veterans in need with shelter, outreach assistance as well as education and job assistance. The foundation was founded by U.S. Navy veteran Nancy Prevot in 2016 ─ a year after she retired from the military after 21 years of service.
"I'm excited and can't wait to see the transformation," said Prevot, who was a Navy cryptologic technician. "I hope they're excited too."
They were.
"It's fun," said Christine, a Navy veteran who has been residing at the Honor H.E.R. shelter since she was evicted from her residence during the summer. "I'm going to get highlights and curls."
Shakiera Philpot, the PSC Cosmetology student assigned to Christine, nodded in agreement.
"We're going to get it styled with highlights – it's going to look great," Philpot said as she looked over Christine's hair. "It's really nice to be able to help others anytime you can. Especially people who served our country."
The veterans came to the PSC Cosmetology building on the Pensacola campus on Friday, Nov. 12 – a day after Veterans Day and the day before the All Services Ball, which featured a live band and dancing, a comedian, a silent auction and food and drink. The Honor H.E.R. Foundation hosted the ball to honor all Gulf Coast veterans, law enforcement, first responders and doctors and nurses for their contributions.
"These last 20 months have been hard," Prevot said, referring to, of course, the COVID-19 pandemic that is still affecting society. "We wanted to try to give back how we could, especially after so many people and organizations have been giving to us for five years now."
According to the Veterans Affairs, women veterans are more than twice as likely to become homeless as women who did not serve in the military.
PSC Cosmetic Arts Technician Roslyn M. Smith was admiring the "We See You" photography exhibition at Cordova Mall which features portraits of more than 100 area female veterans when she met Prevot. The Honor H.E.R. Foundation created the exhibit in partnership with Kate Treick Photography.
"We started talking and she told me about how often women veterans don't get the recognition and resources they need when they leave the service," Smith said. "The more we talked, the more I knew I would love to help them. She is doing such great work with these women to help them rebuild their lives."
Smith talked to PSC Cosmetology Program department head and assistant professor Kimberly Markwick, and the women decided to offer PSC's cosmetology services to the veterans to help them prepare for the ball.
"This was a way for us to help these women who served our country," Smith said. "This is something we could do to help them.
Prevot said so many of the women are rebuilding their lives after dealing with life's various struggles.
"A lot of them have come a long way," she said. "Whether they see it or not, they have. Especially when you consider where some of them have been."
U.S. Army veteran Carol Runberg was living in her car before receiving assistance and shelter from the Honor H.E.R. Foundation.
How long was she living in her car?
"A long time," she said. "I'm just thankful I don't have to do that anymore."
PHOTO: PSC Cosmetology student Adamia Thomas styles the hair of Renee, a military veteran who resides at a shelter for female veterans operated by the area non-profit Honor HER Foundation of Northwest Florida.