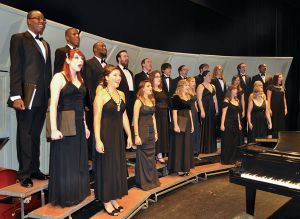 Published: 04-14-2017
Pensacola State College's Concert Chorale and Jazz Choir present a free concert at 7:30 p.m. Thursday, April 20, at the Ashmore Auditorium, Building 8, on the Pensacola campus.
The public is invited and no tickets are required. Seating begins at 7 p.m.
The Concert Chorale performs classical and traditional selections including "Sorida," a Zimbabwe Greeting; "Kyrie" and "Gloria" from Mozart's Coronation Mass; "Go, Lovely Rose" by Timothy Snyder; "A Red, Red Rose" by James Mulholland; "Mei Li di Tsao Yuan Wo di Jia," a Chinese song; and "City Called Heaven."
Rounding out the show, the Entertainers Jazz Choir performs several popular selections, including "Balling the Jack," "Ain't Misbehavin'," "In My Life," and "Le Jazz Hot!"
PSC Choral Director is Xiaolun Chen and accompanist is Ila Brown.
For more information, call the Lyceum Box Office at 850-484-1847.