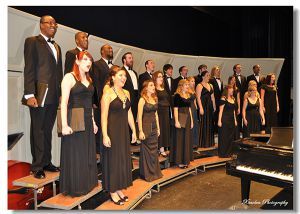 Published: 10-06-2017
Pensacola State College presents the Concert Chorale and Entertainers Jazz Choir in a free concert at 7:30 p.m. Friday, Oct. 6, at the Ashmore Auditorium, Building 8, on the Pensacola campus.
The public is invited and no tickets are required. Seating begins at 7 p.m.
The Concert Chorale opens the evening with "Gloria Patri" by Giovanni Pierluigi da Palestrina, followed by "Gently the Wind is Blowing" by Wolfgang Amadeus Mozart, "My Gentle Harp" arranged by Alice Parker, "I Got a Key" arranged by Shaw Parker, "Deep River" arranged by Noses Hogan and "Come, Let's Celebrate" by Rosephanye Powell.
The Entertainers Jazz Choir performs three numbers arranged by Kirby Shaw, "Lullaby of Birdland," "Long Ago (and Far Away)," and "I Got the Sun in the Morning."
PSC Choral Director is Xiaolun Chen and accompanist is Ila Brown.
For more information, call the Lyceum Box Office at 850-484-1847.