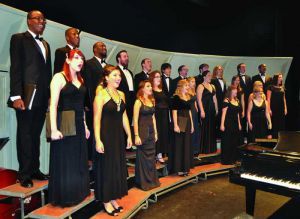 Published: 10-05-2016
The Pensacola State College Concert Chorale and Entertainers Jazz Choir present a free concert at 7:30 p.m., Friday, Oct. 7, at the Ashmore Fine Arts Auditorium, Building 8, on the Pensacola campus.
The public is invited and no tickets are required. Seating begins at 7 p.m.
The Concert Chorale opens the evening with "Do Not be Afraid" by Philip Stopford, "Black is the Color of My True Love's Hair" arranged by Stuart Churchill, "Hold On" arranged by Mark Hayes, "The Moon is Distant from the Sea" by David Childs, and "Wade in the Water" arranged by Charles Love Jr.
Featured numbers by the Entertainers Jazz Choir are "Blue Skies" arranged by Mark Hayes, "Cry Me a River" by Arthur Hamilton, and "Footloose" arranged by Kirby Shaw.
PSC Choral Director is Xiaolun Chen and accompanist is Ila Brown.
For more information, call the Lyceum Box Office at 850-484-1847.