Published: 09-30-2022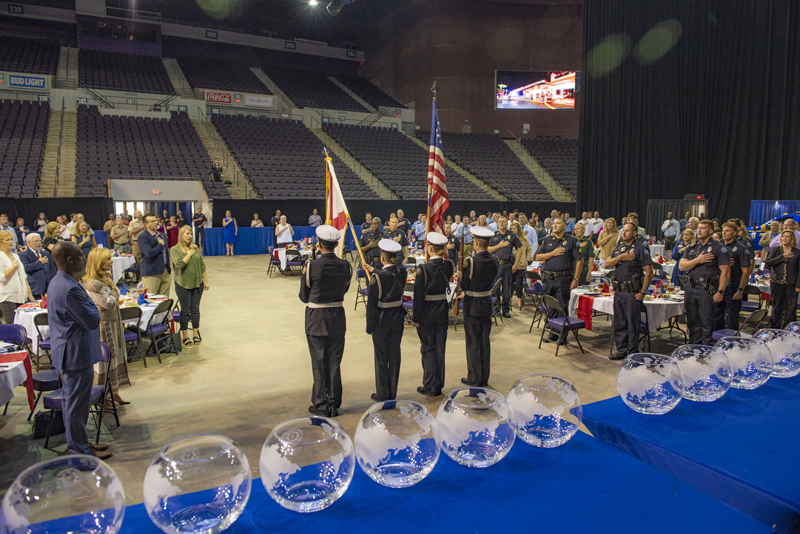 Pensacola State College along with Harvesters Credit Union and HCA Florida Healthcare were sponsors of the 2022 Salute to First Responders luncheon held Sept. 21 at the Pensacola Bay Center.
PSC President Ed Meadows, Dr. Mark Stavros with HCA Florida West Hospital and Keith Golden of Harvesters Credit Union saluted the 13 award recipients at the event.
The 2022 honorees were:
Ashley Baxley, Forest Area Supervisor, Molino Forestry Station
Bradford Hattaway, Escambia County Public Safety
Mark Carter, EMS Dispatcher, Escambia County Emergency Communications
Sean Patterson, Deputy Sheriff, Escambia County Sheriff's Office
Houston Harvell, Shift Supervisor, Escambia County EMS
Stephen Boothe, Battalion Chief, Escambia County Fire and Rescue
OB Pettit, Assistant Director/Marine Operations Commander, Escambia County Search and Rescue
Delrickus Rhoden, State Trooper, Florida Highway Patrol
Alexander Johnson, Deputy Chief, Pensacola Beach Lifeguards
John Bartholomew, Professional Firefighter, City of Pensacola Fire Department
Keith Tourney, Detective, City of Pensacola Police Department
Dianna McCreary, Supervisor Dispatch Communications, City of Pensacola Dispatchers
Craig Ammons, Lifetime Achievement Award Recipient
Sue Straughn, WEAR-TV 3 anchor, presented the awards and Pensacola Mayor Grover Robinson IV issued a proclamation honoring first responders.
The Pine Forest High School Navy Junior ROTC presented the colors and Pledge of Allegiance, with the Rev. Gordon Godfrey of Marcus Pointe Baptist Church giving the invocation and a closing prayer of protection.
Also, on the program was Craig Hindsman who made a special announcement with Rev. Gordon. Lunch was sponsored by Ascension Sacred Heart.