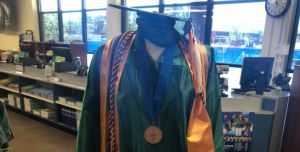 Published: 03-24-2020
Beginning March 29, PSC's physical bookstores are open limited hours to PSC students, faculty and staff only.
The PSC Bookstore websites, however — pensacolashop.com, pscmiltonshop.com and pscwarringtonshop.com — remain open and have extended free ground shipping on all items with no minimum purchase. This includes various formats of course materials, supplies, apparel, technology and more.
"We want to express that the best, meaning safest, way to get information and conduct transactions is first, through our bookstore websites; secondly, by calling or emailing us; thirdly, by coming in if necessary," says store manager Beth Smithers.
Temporary hours for the Pensacola campus store will be 10 a.m. to 2 p.m. Monday through Friday for clerk service only. Feel free to call ahead, 850-484-1515, or write PNSbookstore@pensacolastate.edu.
For the Milton and Warrington campus bookstores, please call ahead as the store staff will be present only for limited hours. Call 850-484-445 for the Milton store and 850-484-2233 for Warrington.
Also, as a service to customers, the store has partnered with RedShelf and participating publishers to provide free eBooks where available to affected students. Visit the campus store websites to gain access to eBooks at no additional charge with your .edu email address. Each student can access up to 7 eBooks for the designated period free of charge.
Free Shipping on Rental Returns & Deadline Extensions: The campus stores are offering free shipping return labels and are also extending the non-return period without penalty to assist with increased returns by mail. Click the COVID-19 message on the home page of the campus store websites for the details.
Please note: Some items may have limited availability. These items are noted as "backordered" because they may ship from locations affected by a COVID-19 closure. If backordered items are purchased, bookstore personnel will ship as soon as they are able.
Questions: PNSbookstore@pensacolastate.edu