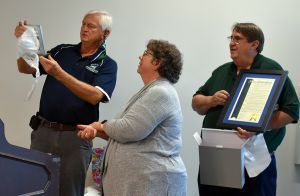 Published: 11-12-2020
Troy Moon, Pensacola State College
Gean Ann Emond brain works like a calculator. She's a numbers-cruncher whose gears turn best when there are spreadsheets and numbers and more numbers to work with. But that doesn't make her a human calculator. Because a calculator doesn't have a heart, nor the ability to make someone feel, smile and even laugh.
Gean Ann does. And all those qualities and more will be sorely missed. Gean Ann, the decades-long Pensacola State College Vice President of Business Affairs, is retiring. Her last official day is in late January, but with holidays and vacation time, she probably won't be in her office on the Pensacola campus that often.
Last week, co-workers, family and friends met for a retirement shindig in the first-floor reception area of the beautiful new Baars STEM Building, which is expected to open for classes this year. There were cakes, cookies, beverages and a crowded room full of people there to send off Gean Ann with stories of love and laughter.
Debbie Douma, Dean of Grants and Federal Programs, recalled her own early days at PSC when she was still settling into her job as a grant writer.
"I didn't know what I was doing," Douma said. One day in those early weeks, Emond poked her head into Douma's tiny office. "She asked if I had found a grant to cover my own salary yet. I didn't know Gean Ann at the time, other that she was really important. I thought I should probably start reading the classified ads."
Douma soon learned that the accountant was more than just a numbers-cruncher. She was funny. She was personable and very down-to-earth.
"She might think she has everyone fooled," Douma said. "But she is an accountant with a heart. I don't know if that's normal for accountants. Gean Ann, I appreciate all you've done for me and I still haven't found a grant to cover my salary."
Gean Ann just grinned, watching from a table with her husband, Roy, her son Phil, her son Davy, along with his wife, Naomi, and their daughter – Gean Ann's granddaughter — Elizabeth. Her other son, Brian Emond, watched the retirement party and remarks from Orlando through a Zoom connection on a nearby monitor. With Brian on screen was his wife Melissa and their two sons – Gean Ann's grandsons – Shane and Tyler.
With Gean Ann Emond, family is the priority. It was never her job that defined her. It is her role as a wife, mother and grandmother that is paramount.
"One of the important things, and I think it really helped me with the job I have, is my family," she said. "That was always more important to me than anything I did here. I tell people that today: I expect you to do your job and do the best job you can do. But I understand it's not the most important thing you have in your life. If your child is having a field day and you want to take off and you have leave, take off and go to field day. Whatever is going on here at the College will be OK."
Gean Ann is a Pensacola native and a graduate of Escambia High School, Class of 1974.
She enrolled at then-Pensacola Junior College right after graduating from Escambia, taking general classes.
"I had some electives and took some sciences and thought I might be interested in that," Gean Ann said. "But I also took an accounting class and enjoyed it. That was really where my interests lie. I just have always enjoyed left-brain activities. I'm certainly not the creative person. But I do have the skillset for accounting. I like solving the problems and that kind of work."
Gean Ann earned her Associate in Arts degree from the college in 1976. From there, she went to the University of West Florida, where she earned a Bachelor's degree in Accounting in 1978, and a Master's degree in Business Administration in 1998. She became a CPA in 1994.
She worked as an accountant for the City of Pensacola, and later with the Florida Auditor General.
Gean Ann was auditing the College at the time in her capacity with the Florida Auditor General when she learned of an opening at what is now PSC.
The job with the Florida Auditor General had her on the road often, driving to Crestview, DeFuniak Springs and other far-flung portions of the Florida Panhandle.
"There was a lot of travel, and it was all on your own time," she said. "I had just gotten married and wanted to find something that was closer to home and didn't have to spend so much time driving."
She joined the College's staff in 1982 as Coordinator of Accounting. She left in 1986 to take care of her growing family. She returned to the College in 1991 and was named Vice President of Business Affairs in 2000. In 2013, Gean Ann was selected the College's Supervisor of the Year.
At last week's party, PSC President Ed Meadows read a resolution passed by the Pensacola State College Board of Trustees honoring Gean Ann's contributions to the College.
Even at her own retirement party, Meadows had Gean Ann doing some math regarding some of her and the College's most trying times.
"She's gone way beyond the call of duty with Workday and dealing with the hurricanes," Meadows said. "How many hurricanes?"
Gean Ann spun the numbers in her head for a second.
"Five hurricanes," she said. "And a flood."
Meadows said that Gean Ann helped make his own job easier.
"She always advised me in the legal and right way," he said, noting that Gean Ann has worked diligently as a steward of PSC's finances, while trying to meet as many needs as possible.
"When you go to her seeking that extra pot of money that you don't have in your budget, she tries to help you," Meadows said. "She's a genuine person and she loves this College and the people she works with. This is a happy, yet still sad occasion."
Any sadness was tempered by the remarks of Gean Ann's friend of more than 40 years, former PSC Business instructor Vance Land, who told humorous stories about Gean Ann, drawing true laughter from those in attendance.
"I got stories," Land said. "Oh, do I have stories."
He talked about how a younger Gean Ann was a "cracker jack softball player" whose only concern was the sport.
"Then came Roy," he said, giving Roy Emond a sly grin. "So that messed everything up … (Softball) was all she was interested in before then. Then she was interested in Roy. That didn't sit very well with me."
Gean Ann, Roy, and everyone in the room laughed.
So Gean Ann Emond's career at PSC comes to a close. Yet she'll forever treasure the memories and the relationships.
"I'm going to travel more now and spend more time with my grandchildren," she said. "But I'm truly going to miss the interaction. I'm going to miss the people I work with, the staff here and the people across the hall. I see them every day and I'm going to miss that."
Then, a remark she is known for. A remark she truly means.
"I think I have the best job at the College. I love my job!"
PHOTO: PSC President Ed Meadows and retiring Vice President for Business Affairs Gean Ann Emond examine Gean Ann's gift clock while her husband, Roy, holds the official proclamation from the Board of Directors. Photo by Zack Blessing