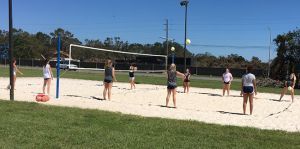 Published: 10-07-2020
Troy Moon, Pensacola State College
Pensacola State College's volleyball student-athletes churned their legs in the soft white sand of the intramural volleyball court on the Pensacola campus. It was the middle of the day, and the early fall temperature wasn't quite dog-days hot, but it was still warm enough for sweat to pour.
Normally, the team would be practicing inside the gymnasium that is the centerpiece of the Louis A. Ross Health and Sports Center. But the roof over the facility was damaged by Hurricane Sandy and needs to be replaced. The gymnasium is off limits for three weeks, forcing the three teams that would be using the courts now – men and women's basketball and volleyball – to find alternative practice areas while a new roof is installed.
For the volleyball team, that's the sand "beach" volleyball court behind the softball field. And anyone who's run in soft sand before knows what a strenuous workout it is.
"We'll be working out in the sand for a couple weeks getting back into shape,'' said PSC volleyball head coach Jennifer Belarmino. "If we have a problem with the gym, we typically use the gym at Milton (PSC campus). But they're doing some repairs on the gym there too."
All three teams would normally already be competing, but the COVID-19 pandemic has forced season openings for fall sports to spring, except for women's cross country which takes place outdoors. And even with the COVID-19 delay, the basketball and volleyball teams would currently be using the gym for practices.
"Even with the seasons pushed back, the plan was for the teams to use the gym now for practice,'' said Hailey Lotz, PSC Booster Club Operations Coordinator. "They would have been gearing up for practice (last week) in the gym, but the coaches had to find other places to practice."
While the volleyball team can use the sand court, PSC's basketball teams were forced to scramble and search for open indoor courts.
The men's basketball team now practices at East Brent Baptist Church, with players bussed to the church gym on Davis Highway.
"Our kids have been biting at the bit to get going,'' said Pete Pena, PSC men's basketball coach. "We're so thankful to Pastor Wade Rials for giving us the gym for the duration we need it."
The storm is just another challenge in a year like none other.
"We've been vigilant about COVID, and we've been doing everything we can to keep our players and coaches safe,'' Pena said. "We've been doing testing. We're taking all the precautions – wiping down balls, making sure everything is sanitized. It's just the way it is. All the inconveniences are for a reason and our kids have been outstanding with the way they've handled things. Everyone understands that things are different."
Women's basketball coach Penny Belford agreed. Her team is practicing at the Cobb Resource Center on Mallory Street.
"We haven't been able to get on a court together to do any workouts,'' Belford said. "It definitely threw a wrench into all of our plans. Now all of us coaches are just dealing with all these wrenches being thrown around. But the players are taking everything in stride. They haven't complained. They've just adjusted to the situation. But they have all been itching to get back for a while now. Me too."