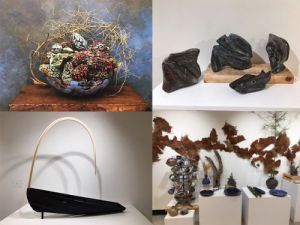 Published: 11-06-2017
More than 100 select works from 23 professional artists are on display at the annual Art Faculty and Staff Exhibition at Pensacola State College's Anna Lamar Switzer Center for Visual Arts, Building 15, on the Pensacola campus.
The show is free and the public is invited to meet the artists at a reception from 6 to 8 p.m. on Thursday, Nov. 16.
Featured through Jan. 12, 2018, the exhibition gives students and the community an up-close look at the creative efforts of Pensacola State's widely respected visual arts faculty and staff.
"There is always something new and exciting," says Gallery Director Vivian Spencer. "Everyone pushed the envelope further from where they were last year."
A perennial favorite, this innovative exhibition includes ceramics, drawing, digital imaging, graphic design, jewelry, painting, photography and sculpture.
PSC artists participating in the show are Michael Boles, Kathy Brower, Bill Clover, Michelle Cornejo, Louise Foster, Mark Francis, Mark Hopkins, Krist Lien, Julie McGrath, Devon Murphy, Fred Myers, Linh O'Briant, Allan Peterson, Kristen Regan-Miller, Doug Reiser, Jimmy Rhea, Kelly Schmidt, Melina Smyres, Vivian Spencer, Warren Thompson, Ben Twingley, Christopher White and Paula Work.
Gallery hours are 8 a.m. to 9 p.m. Monday through Thursday and 8 a.m. to 4 p.m. Friday. Tours are available with prior arrangements.
For more information, call the Switzer Gallery at 850-484-2550.