Published: 09-30-2022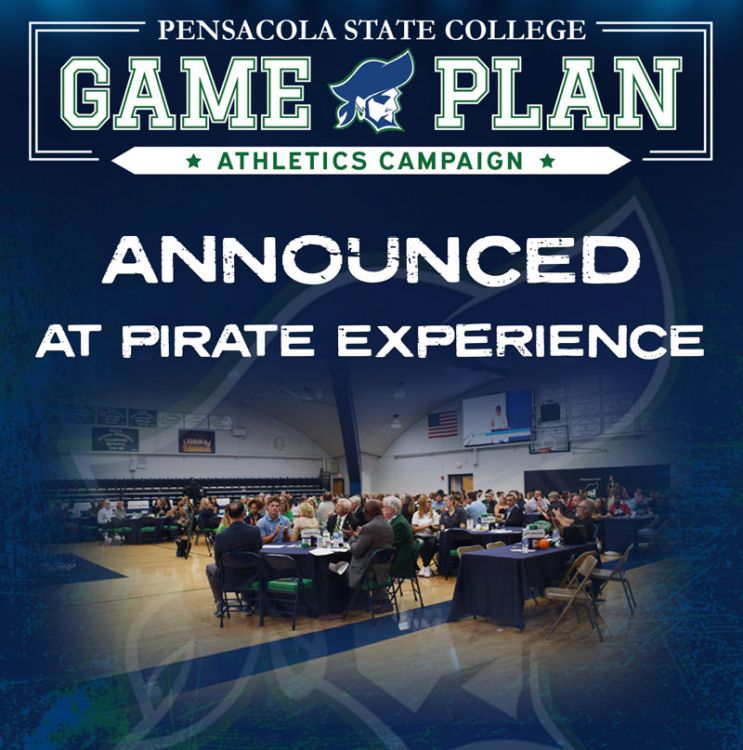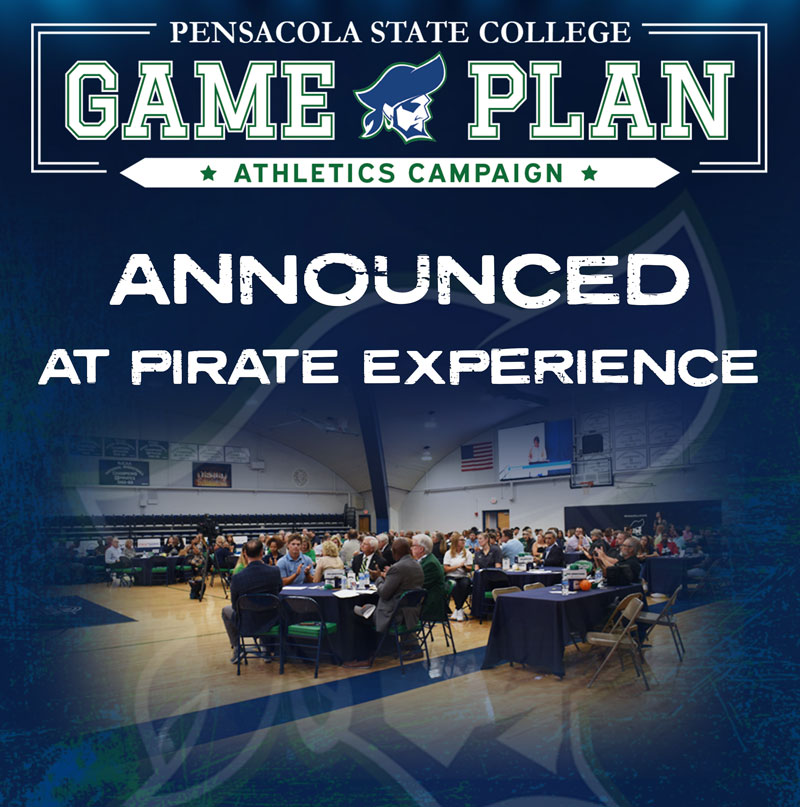 The biggest takeaway from the awesome and exciting 2022 Pirate Experience, Pensacola State College's annual athletics showcase?
Future Pirate Experiences are going to be even more awesome and exciting.
PSC President Ed Meadows and PSC Athletics Hall of Fame member Doug Bates announced the first Athletics Campaign in modern PSC history at the Pirate Experience on Tuesday, Sept. 27, in the Hartsell Arena.
The "Game Plan" capital campaign will feature three "buckets" targeting various goals and initiatives:
General Support
Facilities and new construction
Endowments
"We're going to make you even more proud of PSC than you are now,'' said Bates, who will chair the athletics fundraising campaign. "Our mission now is to go out into the community and let everyone know that this where they need to invest."
A highlight of the campaign is the plan to create a top-tier soccer complex on the Pensacola campus, complete with bleachers, concession stand, locker room, press box, scoreboard, and more. Pensacola State will field a women's soccer team beginning in fall 2023.
Other major funding initiatives include the construction of an Academic Success Center for student-athletes, an Athletic Training Center which would include an emphasis on nutrition, locker rooms for volleyball and cross-country and softball batting cages.
There are naming opportunities for all new structures as well as many existing athletic structures and facilities.
Major naming opportunities range from $10,000 to $2 million, though there are some naming opportunities at lower prices.
Pricing examples for some current and future naming opportunities:
PSC Athletic Complex: $2 million
PSC Soccer Complex: $500,000
Athletic Training Center: $500,000
Soccer Field: $250,00
Baseball, Softball complexes: $250,000 each
ESports arena: $100,000
Tennis courts: $50,000
There are dozens of other opportunities, ranging from film room ($25,000) to gymnasium concession stand ($10,000).
Donors can give to specific programs such as softball, baseball or any other team, include the new esports team that starts next month. Gifts can also be specified for certain facilities and structures.
"We're going to make this a special place,'' Bates said. "This is going to be a facility to match a championship program."
For more information on the PSC Game Plan Athletics Campaign, go to https://pirates.pensacolastate.edu/.
Though the campaign was the newsworthy part of the 2022 Pirate experience, the rest of the festivities featured all PSC athletic teams – men and women's basketball, softball, baseball, cross-country, volleyball and esports – through pre-recorded video introductions.
Free food for guests was provided by Bubba's 33 and Walk-On's Sports Bistreaux.