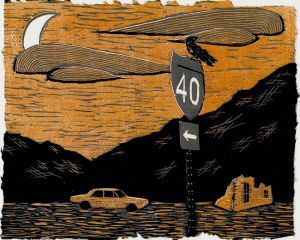 Published: 05-27-2020
The Visual Arts Department at Pensacola State College has announced the 2020 Art Student Honors scholarship and award recipients.
The College annually awards more than $20,000 in scholarship funds to outstanding visual arts students practicing a variety of media, including photography, graphic design, painting, drawing, printmaking, metal work and ceramics.
"Over 51 of Pensacola State College's most talented students submitted more than 180 pieces of art for jurying," said PSC President Ed Meadows. "Of that number, 33 were honored for their skills and craftsmanship. We are awed by the talents of these exceptional students and so proud of their achievements."
Scholarships winners were:
• Eileen Wade Memorial Scholarship ― Charlotte Blessing
• Harvey Rundquist Memorial Endowed Scholarship ― Lindsi Hicks
• Randy Grogan Kidd Memorial Scholarship ― Frederick Hallman, Corrianne Stine, Elizabeth Waldrop, Heather Helm, Saige Garrett, Yun Wha Jasmin Crawford-Aceto and Sumaya Krichi
• Mark Price Memorial Scholarship ― Alana Cox
• Aubrey Mullings Memorial Scholarship ― Haylee Paxton
• Carolyn Carter Memorial Scholarship ― Kelly Coberly
• Sam Marshall Scholarship ― Richard Smith
• M.P. Brown Scholarship ― Chasity Brooks, Kylie Crowell, Amelia Moore, Amber Beasley and Rebecca Thomaston
• Gulf Breeze Arts Scholarship ― Heidi Woods, Danny Nguyen, Amanda Schmidt and Albert Fox
• Julie Krause Memorial Scholarship ― Cheryl Sturges and Jenny Manare.
Awards recipients include:
• Tony Sam Faculty Choice Award, first place ― Joshua Goolsby
• Tony Sam Faculty Choice Award, second place ― Derek Breaux
• Best of Show Award ― Nick Bridges
• Honorable Mention ― Toni Avrett
• Outstanding Achievement in Ceramics Award ― Summer McCollum
• Palma D'Oro Ceramics Award ― Corrianne Stine
• Chris Mills Memorial Photography Award – Haylee Paxton and Chasity Brooks
• Jaco's Bayfront Photography Award ― Aaron Cleveland, Elizabeth Carver and Evan Osburn
• Anna Award ― Renee Bates.
"We are able to attract these talented students because of the College's reputation for a great visual arts department," said Krist Lien, head of the PSC Visual Arts Department. "We are so proud of the work all of our students do."
For more information about the College's 2020 Art Student Honors or the Visual Arts Department, contact Gallery Director and Chief Curator Michelle Schulte at 850-848-2578 or mschulte@pensacolastate.edu.
PHOTO: Nick Bridges' "Cuervo, NM," a reductive woodcut on paper, received the Best of Show Award presented by the Pensacola State College Visual Arts Department.