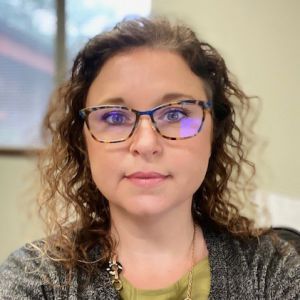 Published: 12-03-2020
Troy Moon, Pensacola State College
If Pensacola State College Milton Campus Dean Jennifer Hill Faron was giving Stacy Young a grade, it would be an "A-plus."
Hill Faron said Young, a Milton Campus Testing Specialist, has completely revamped and improved the Milton Testing Center, adding more tests and assessment tools to the mix.
"She's impressed everyone with the work she has done," Hill Faron said. "She's brought in fresh new ideas and more tests that bring in new revenue for the College."
Young started at the Milton Testing Center in August, after working as a Kelly Services employee at the Pensacola Campus Testing Center. Before that, she was a student assistant at the South Santa Rosa Center, working while attending College.
"She came highly recommended from the South Santa Rosa Center and the Pensacola Campus," Hill Faron said. "She's brought new life into the Milton Testing Center."
Young graduated from PSC this spring with a Bachelor of Applied Science degree with an emphasis in Human Relations. She plans on pursuing a master's degree at the University of West Florida or Troy University.
"I enjoy the College environment," said Young, an engaged mother of two young children. "I've enjoyed every department I've worked in and everyone I've worked with so far."
Her duties at PSC include ensuring the security of tests that are given as well as researching and bringing in new assessments to expand the Testing Center's impact. The Milton Testing Center has added numerous new tests under Young's guidance, including the ParaPro Assessment for paraprofessional students and the ProV exam for employees in construction, homebuilding and other workforce fields.
And Young wants to add more.
"Along with ParaPro Assessment and ProV testing, I have also opened up HESI-A2 (Health Education Systems Incorporated) at Milton and finally have CLEP (College Level Examination Program). CLEP was a bit of a nightmare, but with the help of Liz Gomez (Director of Technology Support), Jeff Ward (Director of Network and Telecommunications) and Rick Smith (Coordinator of Technology Support), we made it happen."
Hill Faron said Young has been an "amazing" addition to the Milton Campus.
"She's a PSC alum, so she knows the College," Hill Faron said. "And to go through College while struggling with two children and having a full-time job is not easy. She's just a fantastic asset to the Milton Campus as a whole."
For more information on PSC Testing Centers, go to www.pensacolastate.edu/current-students/student-services/testing-center/.