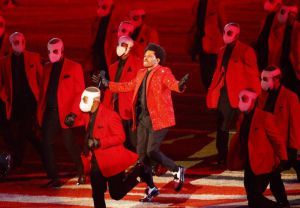 Published: 02-24-2021
Mary Mabins, Pensacola State College
By day, Jaylon Tellis is a mild-mannered research and development engineer at Johnson & Johnson.
In his free time, however, the 2016 Pensacola State College graduate dances – professionally. In fact, you probably saw him a few Sundays back performing in the Pepsi Super Bowl LV Halftime show.
Tellis was one of the 55 face-bandaged dancers sporting matching red blazers to join The Weeknd on the stage and field during the nearly 15-minute show on Feb. 7 in Raymond James Stadium in Tampa.
"It was amazing, just unbelievable – a feeling unlike anything else," Tellis said. "Running on the field with the fireworks, the lights, the crowd, it was a once-in-a-lifetime experience."
Tellis said he was impressed by the halftime star.
"The Weeknd was a real cool guy and took the time to show appreciation for everyone who helped make the production a success."
A West Florida Tech graduate, Tellis, 24, began dancing his freshman year of high school. He started out playing baseball but said dancing became his primary outlet for self-expression.
In 2018 while a Tulane University student, he flew out to Los Angeles for training with Johnson & Johnson. Once he graduated, he took a research and development position with the broad-based healthcare company.
The move was a strategic one for Tellis.
"I was intentionally looking for an employment opportunity in a location where I could still pursue my dancing career on the side. I signed with the Bloc Agency in 2019 soon after I moved to L.A.," Tellis explained, adding he landed the Super Bowl through the agency.
"The Bloc Agency sent headshots (photos) to the halftime show production company. And I, along with 23 other Bloc dancers and choreographers, were selected to perform."
On the dancing side, Tellis has performed with hip-hop artist Lil Wayne, New Orleans-based singer Denisia, and on the television series "Claws" and "Vanderpump Rules."
A gifted dancer with an effortless delivery, Tellis attributes much of his success to the support he has received from family, friends, mentors, agency, managers, and Pensacola State College.
"My experiences at PSC helped prepared me academically for Tulane. I have to give Mrs. (Jennifer) Ponson credit – she helped me out a lot. She is the reason I pursued biomedical engineering," he said.
Ponson, Pensacola State's coordinator of Student and Program Outreach, said she always expected Tellis to make it big.
"Jaylon was always an overachiever – in a good way, and he's just a delightful person. He constantly set goals, and it seems that whatever he puts his mind to, he achieves," she said. "He has the passion to make it – whatever 'it' is ─ happen. He is just an incredible talent, and I know he will continue to reach his dreams and goals. He's just that kind of young man."
While at Pensacola State, Tellis was a shining star. An outstanding student, he also was both the Florida HOSA – Future Healthcare Professionals, and Region 1 HOSA president. That drive continued after Tellis transferred to Tulane, where he earned a Bachelor of Applied Science degree in biomedical engineering in 2019. While there, he was a member of the Biomedical Engineering Society, National Society of Black Engineers, president of Tulane Collegiate Entrepreneur's Organization, Start Up Tulane, and a Phi Theta Kappa Honors scholarship recipient.
Even before he signed on with the Bloc Agency, he had been dancing, choreographing and teaching for about 10 years. Hip-hop, breakdance, freestyling, contemporary, and jazz are his areas of expertise.
Susan C. Robbins, a Pensacola State accounting and finance professor, first met Tellis in this area's dancing community.
"I never taught Jay at PSC, but I know him because he was the leader of the hip-hop crew, LilPac, that my son Evan was in. Jay and Evan danced together for years," Robbins said.
"Jay is an amazing guy and a high achiever in all he sets his mind to do. He has always been my son's biggest role model."
Tellis didn't get a chance to make a stop in Pensacola during his Florida visit. In December, however, he visited his mother, Brigida Fisher, who still lives here, and other relatives. His father, Charles Tellis, is in the U.S. Navy and lives in Washington, D.C., and Seattle is home for his sister, Alexis Tellis Nseya.
On his Facebook page, Tellis writes he is thankful.
"I am blessed and grateful for the opportunity to do what I love in Los Angeles. This was a bucket list item that I got paid to check off," he shared.
"Moments like these… Super Bowl LV! Not only is this an artist I've loved and listened to since high school, I got to dance alongside some of the most respected choreographers and dancers in the industry. Working full-time as an engineer, dancing professionally, and pursuing a start-up is challenging, but moments like these make the grind worth it!"
When asked if he had any advice for other up-and-coming artists, Tellis said he would encourage them to keep pushing forward.
"I would say keep going forth and doing all that you can to pursue your passions," he said. "Don't give up until all of the doors are closed to you ─ if the doors are still open, keep on pushing."
Tellis also is not the only Pensacola State alum to perform during a Super Bowl halftime show.
In February 2019, Pensacola State graphic designer Zack Blessing and 31 other musicians comprised a drumline that joined Maroon 5 during the halftime show of Super Bowl LIII.
Blessing, a 2017 PSC grad and former Escambia High School band member, played the cymbals with Equinox Percussion, a world-class nonprofit young musician ensemble based in Atlanta.
"It was a once-in-a-lifetime opportunity," said Blessing in 2019. "…I was not expecting it. I mean, who gets asked if they want to perform at halftime at the Super Bowl?"
Equinox Percussion practiced the weekend before the Super Bowl and the three days leading up to the big game.
"We got a free three-day rehearsal concert with Maroon 5," said Blessing, who added he was impressed at how talented the band was in their live performances. "There was no lip-syncing."
TOP PHOTO: Jaylon Tellis dances with The Weeknd in the Pepsi Super Bowl LV Halftime show.