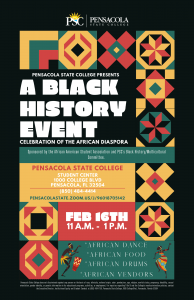 Published: 01-26-2022
Troy Moon, Pensacola State College
Legendary author Alex Haley's monumental and nation-gripping 1976 book "Roots: The Saga of an American Family" tells the story of young 18th century African Kunta Kinte and his capture by slave traders and his life in bondage.
The novel also tells the story of his descendants up to modern times and the ongoing struggle to nourish the roots that connect African Americans to their ancestral home.
It's a story that connects African Americans and people of African heritage who are now scattered across the continents. It is the story of the African Diaspora – the collection of people across the globe which are descended from native Africans or who are from Africa.
Pensacola State College will commemorate the African Diaspora with a cultural event set for 11 a.m.-1 p.m. Wednesday, Feb. 16, in the Delaino Student Center, Building 5, on the Pensacola campus. The event will feature African food, African dance, African drumming and vendors selling African items and African-inspired goods.
The "Celebration of the African Diaspora" is part of PSC's Black History Month commemoration and is sponsored by the PSC African-American Student Association.
"Our theme is "our Heritage – Now and Forevermore," said Tonie Anderson-Steele, PSC African American Student adviser. "We celebrate and recognize our past, present and future. There's no changing what happened – the past is the past. But there were so many trials and tribulations for us that we can't ever forget. We have to build on the past and go forward."
The African Diaspora – "diaspora" means scattering and originally referred to the exile of Jews and their dispersion across the globe – is defined by the African Union as "people of native African origin living outside the continent, irrespective of their citizenship and nationality and who are willing to contributes to the development of the continent and the building of the African Union."
The African Union is a union of 55 member states located in Africa.
"We weren't slaves – we were free people who were then enslaved,'' Anderson-Steele said. "We want to honor our ancestors and the culture and legacy that they helped establish."
The February event also will feature various speakers, including Pensacola pediatrician Dr. Michelle Grier-Hall and Dr. Marion Williams, a former Escambia County School District administrator and local historian. Lepoleon Williams will lead a group of dancers and drummers in a performance. Food at the event will include jerk chicken, peas and rice, baked plantains and more.
The African Diaspora commemoration will also be able to be viewed on Zoom at PensacolaState.Zoom.US/J/96018705142.