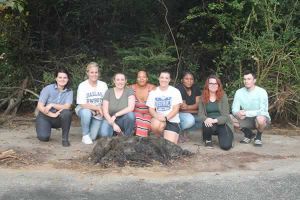 Published: 11-01-2016
An unusual dose of reality was waiting for Pensacola State's Advanced Crime Scene Class last Wednesday. PSC Instructor Shelley Dill escorted her students to the Warrington campus so that they could take the principles and techniques of setting up a crime scene that had been covered in class and apply that knowledge to a real situation.
Previously, Dill and PSC Police Lt. Sean Fagan arranged for a donated pig to be properly prepared and left for a period of time in a selected site in the wooded area of the Warrington campus. The class named the "victim" Wilbur.
When all was ready, the class met at the "crime scene" and each student examined the carcass in extreme detail to see the different stages they may experience in a real situation at a law enforcement agency.
Dill says the students will return to the scene for several more classes as she prepares each class for the corresponding set of instruction.
"Monday I plan to have the students bury Wilbur," Dill adds. "He should skeletonize over the winter so that we can do a recovery dig in the spring. That adds another whole dimension to their field of learning."
The response from the students has been outstanding. They feel the hands-on experience has definitely heightened the value of their education and they are grateful that they have been granted a golden opportunity to experience "lecture versus reality."
"I'd say 90 percent of the students are totally into the project," Dill says. "I have one rethinking if she can handle working with the dead and the bugs. It's been a great reality check for them. I'm actually surprised there aren't more students shying away for dealing with what happens in death.
"I'm very pleased with their responses and how much more they seem to be grasping. This experiment might be short due to decomposition rates; however it was totally worth it!"