Published: 12-08-2022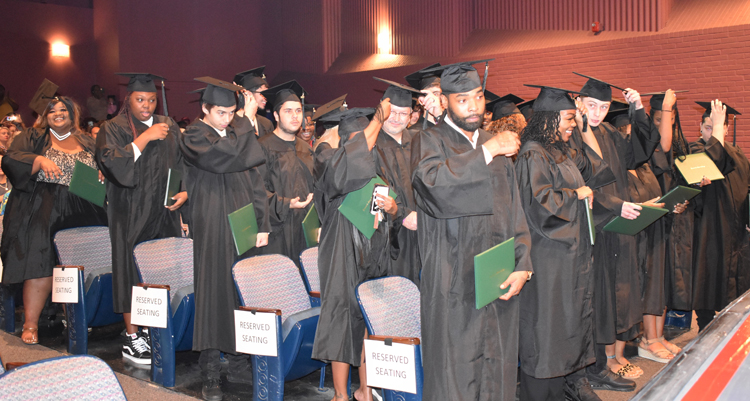 Twenty years after she would have graduated from high school, Denise Harris earned a GED and received her diploma.
Harris was one of 50 graduates honored at the 2022 Pensacola State College General Education Diploma Recognition Ceremony held Wednesday in Ashmore Auditorium on the Pensacola campus.
She's not waiting that long for her next educational venture. Harris, a mother of seven children ages 13 to 23, starts classes at PSC in January. She hopes to be accepted into the PSC Nursing Program and become a RN.
"I wanted to be an example and a leader for my kids – I push them all the time, so I had to push myself,'' Harris said. "They're proud of me. I'm proud of myself."
Harris added she was uplifted by the support of instructors and staff in the PSC Adult Education Department.
"Everyone wants you to succeed and they do all they can for you," Harris said. "I'm so glad I got into the program."
Many of the graduates were motivated by guest speaker Julie Riser, a University of West Florida psychology honors student who earned a GED and Associate of Science degree from PSC before transferring to the university.
She described the PSC Adult Education Program as "transformational."
"It helps set people like me up for success,'' Riser shared. "There is so much support and everyone works so hard to make sure you have every opportunity to be successful."
Brenda Kelly, Associate Vice President of Academic Affairs, congratulated the graduates.
"I congratulate each of the graduates on your hard work and your perseverance,'' Kelly said. "For those of us who work at the College, events like this one are those that we most look forward to."
The 2022 Fall Semester GED graduates are Richard Anderson, Haley Bartlett, Jon Bonner, Charlotte Born, Gabrielle Bronaugh, Makayla Coren, Christopher Corrigan, Jolan Cunningham, Kidada Dial, Aloysia Dortch, Dalton Dowds, Demario Eggleston, Yasmeen Francis, Nathan Fuqua, Nathan Galmiche, Katie Gibbons, Sean Gillette, Charles Glenn, Wyatt Hance, Denise Harris, Gavin Jernigan, Angeni Johnson, Columbus Lewis, William Mann, Kathryn Martin, Alejandra Martinez, Nova McElveen, Brianna McKissick, Walter Minton, Landon Nye, Emily Oosterhof, Jeremy Oosterhof, Wendy Parnell, Taleke Pello, Jade Perkins, Sarah Richardson, Keely Rhoden, Esther Sallmen, Daniel Salvaggio, Andrew Sanders, Jacob Silva, Akiiya Smith, Ashley Smith, Garrett Southon, Alyssa Spann, Shatarika Washington,  Ashley Williams, Ortavious Wilson, Charles Wolfe and Joseph Work-Grierson.