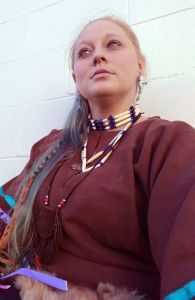 Published: 04-08-2021
Troy Moon, Pensacola State College
April Milstead never thought she would be a published writer. But a short essay about her Creek Indian heritage is now forever imprinted in book form.
Milstead is a Pensacola State College Adult Education student working toward her GED. Her essay "A Day in the Life of My Creek People" has been included in the book "Live Inspired," a publication of the Florida Literacy Coalition, which annually produces a book of poems and stories from adult learners across the state.
"I was super excited to find out," said Milstead, who is still attending classes online despite a serious car accident in October which left her injured. "I never thought in a million years that I'd be one of the persons whose stories were chosen."
Milstead has been in the PSC Adult Education Program since April and hopes to complete her GED in 2022. Her instructor, Linda Lewandowski said Milstead's inclusion in the book, which will be released in May, is, true to the book's title, "inspirational."
For some students in the Adult Education Program, academic success has often eluded them, Lewandowski said.
"Something like this gives them success," she said. "That's really important. And to be published is always a big deal."
Milstead said she originally sought out her GED through other educational institutions in the area, with little success.
"I never had good teachers, and some seemed like they didn't even care," she shared. "But PSC is completely different. Ms. Linda is the best teacher I have ever had. Ever."
Last year, three PSC Adult Education students were published in the Florida Literacy Coalition book, the first time the College had ever had students published in the book.
Milstead said one of those students, Stephen Walls, is a classmate and encouraged her to enter.
"Ms. Linda had mentioned it a few times," she said. "And (Walls) told me how it really boosted his self-esteem, so I figured I would try."
She said that she has written before, usually something to "pass the time and get some feelings out."
For the essay, she found inspiration in her native Creek heritage. She became aware of her native heritage as a child and embraced it, even becoming a Creek Indian dancer. She uses a memory of one of these native dances in her essay. Here's a passage:
"This is my dance, my time to pray, to show who I am – a majestic butterfly who is born to shine… As I begin to float like a gorgeous butterfly, gliding with the air, my prayers scream like the wind within myself."
"It's important to me," Milstead said of the dance. "My heritage is everything. If people like me don't move it forward and pass it on, our traditions will be lost."
Milstead said she hopes to take college credit classes after earning her GED.
"I'm not 1,000 percent sure what I want to do," she said. "I might just take a few semesters and find a career path. But I'm going to stick with this College, because without Ms. Linda and all the help I've received at PSC, I would not have made it as far as I am today."