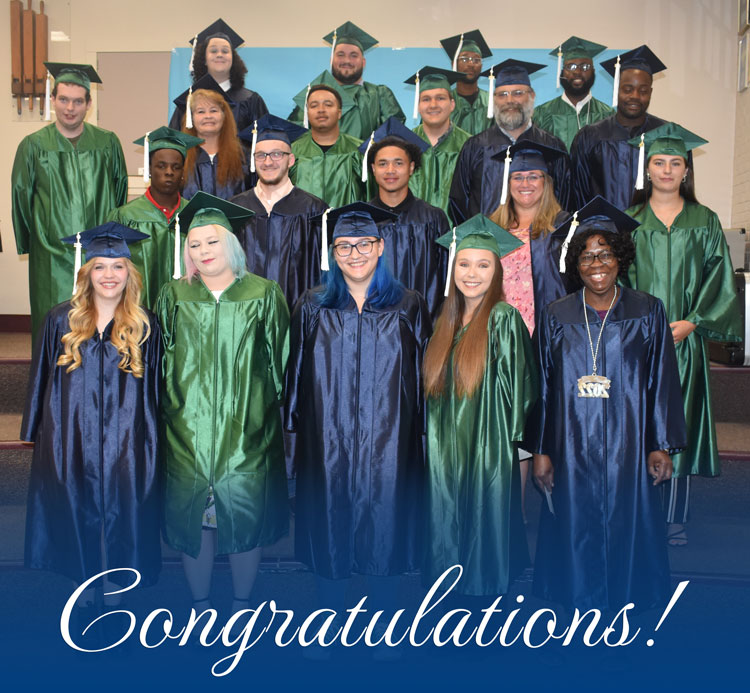 By Troy Moon
Pensacola State College
Ishan Kendall has neither a car nor a home.
But he does have a diploma.
Kendall, 35, is a current resident of the Waterfront Rescue Mission where he is in the Life Builder Recovery Program. He never received a high school diploma after his life was derailed by drugs and crime.
Yet on Tuesday, May 3, Kendall earned his GED diploma at a recognition ceremony in the Pensacola State College Ashmore Auditorium. He was one of 39 students who earned a GED diploma this semester through the PSC Adult Education Program.
"I never finished high school,'' he said. "I got into drugs and got into trouble with the law. I got locked up the month I was supposed to graduate."
He's mostly struggled since.
"I wanted to get my life together and get off drugs and get off the streets,'' Kendall said. "Waterfront Rescue Mission has really helped me and so has PSC."
Waterfront Rescue Mission has a partnership with the PSC Adult Education Program to help train its residents and clients to earn a GED.  Eight people from Waterfront Rescue Mission, including staff, attended the ceremony to support Kendall.
"I was shedding tears,'' said Waterfront Rescue Mission chaplain and program manager Frederick Henderson. "It was almost as if a son had graduated. I'm just so thrilled. He came to Waterfront to turn his life around and he was very serious. He has been laser-focused and he's going in the right direction."
Kendall even has a job at the Waterfront Rescue Mission Thrift Store and is saving money to get his own place and car. He plans on attending PSC as a college student after graduation. He'd like to work with computers.
"The path is open now that was closed,'' PSC President Ed Meadows told the graduates at the ceremony. "It doesn't matter hold young or how old you are, the opportunity is there for you to move forward."
That sentiment was echoed by guest speaker Army Staff Sgt. Dylan Garfield, an Army recruiter in Pensacola who has served in military and humanitarian operations across the globe. A Massachusetts native, Garfield earned his GED in 2008.
"When I earned my GED in 2008, I was thinking to myself that it's no big deal,'' Garfield said. "But without completing the GED program, I would have never achieved my goals. This is a huge achievement and you should be proud of where you are today."
The 39 PSC Adult Education students who earned a GED diploma include:
Sienna Allen, Madison Anderson, Richard Anderson, Sierra Bass, Samantha Bowen, Alicia Brixey-Martinez, Jacob Browning, Bethany Burton, Makenna Carmichael, Denard Castleberry, Elizabeth Clemens, Melanie Danforth, Ayla Dedicatoria, Sarah Edwards, Rupert Evans, James Ferneil III, Jeremiah Gregory, London Gough, Mathew Harigel, Alexis Henderson, Gary Higgins, Ishan Kendall, Rosyln Marshall, Ase McCray, Richie McGee, Celeste Morris, Zachary Morrison, Dana Olsen, Darius Peacock, Taleke Pello, Ladarrius Puryear, Brittney Schipmann, Charles Smith IV, Garette Walker, Brian Ward, Gabriel White, Brannon Whitehead, Bradley Whitehead and James Yancey II.
The PSC Adult Education program includes adult education courses, GED (General Educational Development) Test preparation and English for Speakers of Other Languages (ESOL). The program is for adults 18 years of age or older.
Classes are offered on all campuses and at several convenient locations throughout the area. Students in all adult education classes are required by state law to pay tuition. Tuition is $ 30 per semester. Tuition must be paid at registration.  For more information, call (850) 484-2120
The Adult Education Department offers non-credit classes for adults who want to improve basic academic skills, prepare for the GED examinations, or learn English. Eligibility requirements are as follows:
Applicants must be at least 16 years of age.
Individuals anticipating enrollment in any Adult Education class must submit the Admission/Registration Form and a Residence Statement.
Students will be assessed $30 per semester regardless of the number of courses being taken.