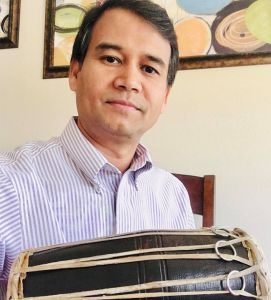 Published: 06-03-2020
Mary Mabins, Pensacola State College
For most people, dealing with the COVID-19 pandemic has been challenging – to put it lightly. One Pensacola State College administrator, however, has turned to an age-old stress reliever for help.
Dr. Hikmat BC, head of the College's Natural Sciences Department, plays the Madal, a popular hand drum in Nepal, and shares the videos on his social media accounts.
"I have played the Madal since 2018 – so about two years. I used to play it in my childhood. I just picked it up again as a way to help alleviate stress ─ a cause of many diseases," said Dr. BC, a Nepal native who moved to the U.S. in 2005.
"Playing the Madal helps me organize internally. Inner management is key these days. The peaceful music of the Madal helps me connect my mind and body in harmony."
Playing the Madal is a longtime tradition for the BC family. His father, grandfather and uncle all play or have played the rhythm-keeping hand drum, which is Nepal's national instrument and the backbone of most of the country's folk music.
"My father, Bal Bahadur BC, plays the Madal very well. When I was a child, he used to be a lead madalist during Nepalese festivals such as Dashain and Dipawali. I watched him playing the Madal so closely and loved the joyful music," he recalled.
Dr. BC said he hopes the music and videos help others.
"I feel everyone in the world is dealing with fearful and stressful news and hardship. History tells us that people lose their lives mainly if they cannot manage stress especially during a pandemic. The main disease is stress these days. When I listen to this joyful music of Madal, I feel myself refreshed and peaceful," he said.
"Our palms also have various acupressure points and playing the Madal helps apply pressure on those points. Some of the points are related to reducing stress."
Dr. Edward Pate, assistant head of the College's English and Communications Department, finds the videos therapeutic.
"I've long been a fan of classical Indian music ─ since my teen years ─ as its rhythms and vocals in particular remove me from the familiar, providing a reflective space that I find calming and renewing," he said. "Music of the Madal, while uniquely Nepalese, yields the same experience for me. It's simultaneously simple and complex."
Playing the instrument is almost a daily occurrence for Dr. BC, who can play hundreds of songs – when he practices.
"I just need time to practice," admitted the 2016 Academy of Teaching Excellence inductee.
Dr. Pate added it was nice to learn something new about a colleague.
"Hikmat and I were in the same new faculty cohort in 2012, and since then I've continued to admire his professional abilities and dedication. Since our connection is a professional one, and Hikmat is an unassuming person of quiet confidence, I was pleasantly surprised to discover his musical talent because it was unknown to me," Dr. Pate said.
Dr. BC and his wife, Sangita BC, also have two musically-gifted sons ─ Ayush, 18, and Elish, 12.
Ayush, a 2020 Pace High School graduate, plays the violin, flute, bassoon and trumpet. A former member of the Pace High School Band, he was selected first chair trumpet for the Santa Rosa All County Honor Band. Ayush also was a member of the Pace High Choir and was named to the 2019-2020 Florida All-State Chorus. He was a member of the Santa Rosa All County Choir for two years.
Elish BC began playing xylophone in fifth grade and is now a clarinet player in the Sims Middle School Band.
As a child, Dr. BC wanted to play the Madal.
"I wanted to play the Madal like my father at that time. I started playing it when I was 6 years old, and learned it mainly by myself," he shared.
"My father never taught me to play. He did not wish to see me as a madalist as the musical profession was not strong those days in Nepal."
An extremely gifted student, Dr. BC's childhood was filled with unimaginable struggles.
"Let me first start with my family's financial situation. We were a family of five children and parents, and our monthly income was about $10. The main income source was the salary of my father, who was an elementary school teacher," he said.
"We also had a small amount of land to grow food. I grew up on a farm with cows, water buffalo, oxen, goats, and chickens. Until I was 13 years old, I had to cut fresh grass with my sister, who was just two years older than me, from our farm to feed our cattle before I went to school every morning."
After school, he and his siblings helped his parents on the farm until dark.
"After dinner, we had a few hours to finish homework. Sometimes, I could not finish my homework because I was so tired. To finish the rest of my homework, I had to wake up when the rooster crowed for first time ─ around 3 a.m. or 4 a.m.," he said.
Despite the circumstances, Dr. BC was one of the school's best students. When he completed sixth grade, his overall score was highest of all the grades (first through seventh grades), and he was rewarded a "School First" Award ─ an ink pen and a dozen "thin" notebooks.
At age 13, he left home for a residential high school and lived in a dormitory.
"The high school was about 10 miles from our house, and I had to carry rice, lentil, cooking oil, salt, my clothes and books in a big backpack.
This food had to last me for two weeks, and the weight of the backpack was too much for a thin and skeleton-like 13-year-old boy," he recalled. "It used to take me about five to six hours of walking to reach my dorm from my home. And plenty of times I was hungry at school, but I learned to focus that hunger on my studies and education."
During his final two years of high school and while earning a bachelor's degree, Dr. BC moved to Pokhara – one of Nepal's largest cities. A 15-hour drive from his home, it was in Pokhara where he first had access to electric lighting.
"Until 10th grade, I had used a kerosene lamp for light," he said.
Dr. BC received his bachelor's and master's degrees in physics from the prestigious Tribhuvan University of Nepal. In 2010, he earned his doctorate in physics from New Mexico State University. After graduation, he was a lecturer at the University of Texas at El Paso for two years before joining Pensacola State in 2012 as an assistant physics professor. In 2015, he was promoted to associate physics professor and became interim department head of Physical Sciences Department in 2017.
In 2018, the College merged the Physical Sciences and Biological Sciences departments into the Natural Sciences Department and Dr. BC was named the head.
PHOTO: Dr. Hikmat BC, head of PSC's Natural Sciences Department, plays the Madal to deal with stress. A native of Nepal, Dr. BC said the Madal's peaceful music helps connect his mind and body in harmony.