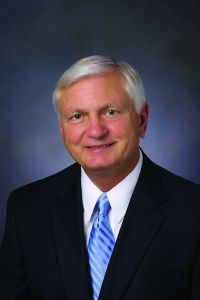 Published: 03-14-2017
New faculty and staff were recognized, college-wide accomplishments were celebrated, and an abundance of information was shared as PSC President Ed Meadows held five campus meetings on the Milton, Pensacola and Warrington campuses last week.
Topping the list was an update on the SACSCOC 10-year Reaffirmation Compliance Certification report that was submitted Feb. 27. The Southern Association of Colleges and Schools Commission on Colleges is responsible for making sure Pensacola State meets the standards for accreditation.
"This accreditation is important for many reasons," President Meadows said. "It is necessary for our students to receive federal financial aid, and it is a peer review process that helps our students transfer to universities and other higher level institutions."
Noting that PSC faculty and staff spent more than two years compiling information for this accreditation, Dr. Meadows said the final report was 357 pages with 2,115 documents of evidence.
He recognized Dr. Erin Spicer, Dr. Brenda Kelly, Dr. Kirk Bradley, Dr. Debbie Douma, Tom Gilliam and Sarah Lewis for the many weekend and evening hours they dedicated to producing the SACSCOC report. He also expressed special thanks to Jo Spencer, Dr. Kelly, Dr. Bradley and faculty on the PSLO and GLO committees for progress on assessment of learning outcomes.
As chair of the Florida College System Council of Presidents, Dr. Meadows shared the council's 2017 strategic priorities. Among the priorities are enhancing 2+2 articulation; increasing advising, academic support and workforce programs; implementing new technology, improving campus safety and security; investing funding to offset increasing operation expenses; and supporting the Department of Education's PECO request for $100 million.
Dr. Meadows also highlighted data showing the important role of the 28-member Florida College System, such as:
Three out of five Florida high school graduates in 2012-13 enrolled in Florida higher education, and of these, 65.7% enrolled at a Florida College System institution.
More than 112,000 certificates and degrees were earned at Florida state colleges in 2015-16.
In 2014-15, average annual earnings for FCS graduates ranged from $37,616 to $48,228 for those with certificates and associate degrees. Average earnings were $52,768 for those with workforce baccalaureate degrees.
FCS students who transferred to State University System institutions held a mean cumulative GPA ranging from 2.94 to 3.17 in upper division courses. This GPA often was higher than that of students who spent their freshman and sophomore years at that SUS institution.
In regards to the state-mandated performance funding, Dr. Meadows said Pensacola State has recouped all performance funding for the past year and listed several initiatives to address future performance funding. The PSC Guided Pathways to Student Success are:
EduNav (structured degree plans)
Orientation (SOAR)
Intentional Advising (eStudent success module, alerts to advisors, students assigned to an advisor, FTIC advising center)
Calling Campaigns (call center advisors)
TRIO Programs (focus on advising)
Auto-Graduation
Second Graduation Review
Improving Degree Audit
2017 Class of Achieving the Dream
Scholarship Funds Reserved for Students Close to Completion
Virtual Tutoring Project
Dr. Meadows called attention to the outstanding success rate for students using virtual tutoring. As a stunning example, students in Pre-Calculus Algebra/Trigonometry not using virtual tutoring had a 45.45% success rate and students using virtual tutoring had a 100% success rate.
In January, the virtual tutoring program's success was recognized with the national 2017 Bellwether Award for Instructional Services and Programs.
An overall fall 2016 to spring 2017 retention of 81.13% and enrollment increase of 4.5% were particular points of pride for Dr. Meadows.
"All of these initiatives are working together to positively impact retention which increases enrollment. The 4.5% increase in enrollment equates to approximately $400,000 increase in collected tuition," he said.
Wrapping up the meeting, Dr. Meadows showed artist renderings for the projected new high-tech building that will replace Baars Building1, the oldest building on the Pensacola campus.
He also praised the PSC Foundation and PSC Alumni Association for their success in providing student scholarships and support for the college, and he spotlighted the accomplishments of numerous students, faculty and programs.
For more details on President Meadows' campus meetings, check out the PowerPoint presentation on the PSC website.