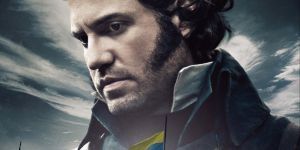 Published: 09-07-2016
Pensacola State College is hosting a free Hispanic Film Festival in celebration of Hispanic Heritage Month that runs Sept.15 to Oct. 15. The public is invited and no tickets or reservations are needed.
Provided through Pragda, a film distribution company, each film has English subtitles. Pragda specializes in the educational market and is created to promote, disseminate, and maintain the legacy of Spanish and Latin American cinema.
All shows begin at 7 p.m., on Friday evenings at the Hagler Auditorium, Building 2, on the Pensacola campus, 1000 College Blvd.
Mystery, romance, humor and heritage permeate the Spanish films showing:
Sept. 16: "Amazonia Eterna" presents an analysis of nine successful, sustainable practices in the Amazon and their economic and social implications for the environment and its people. The Amazon is a vast laboratory for sustainable experiments that are revealing new relationships among human beings, corporations and the natural heritage crucial for life on the planet. Exploring the Amazon's 5,000,000 square kilometers – home to 20 percent of the world's freshwater reserves – the film asks whether it is possible for humans to make sustainable use of the rainforest. "Amazonia Eterna" portrays the daily lives of the forest people as the guardians of this great natural heritage that, if properly managed, could last into eternity.
Sept. 23: "El Regreso" is a humorous, warm-hearted story of a young man's life-changing journey back to Costa Rica. After living 10 years in New York, 30-year-old Antonio returns to San Jose where he is forced to deal with the realities he had fled. He is welcomed by his intense sister, Amanda, whose husband recently abandoned her, and their young son who is apprehensive about Antonio's presence. Remaining home longer than he expected, Antonio comically finds out that his best friend is the lead singer of a death metal rock band and he rekindles a childhood romance. Far from the Department of Tourism's image of Costa Rica, "El Regreso" became the highest grossing Costa Rican film ever and the first to earn international recognition.
Sept. 30: "El Libertador" is the critically acclaimed portrayal of Venezuelan military giant Simon Bolivar who waged more than 100 battles against the Spanish Empire in the early 1800s. Bolivar rode more than 70,000 miles on horseback and his military campaigns covered twice the territory of Alexander the Great. However, his army never conquered; it liberated. This exciting chronicle of the life and times of Simon Bolivar netted "El Libertador" a nomination for the Best Foreign Film Academy Award.
Oct. 7: "Mr. Kaplan" is a thought-provoking look at life in Uruguay for those who fled Europe during World War II. Although Jacob Kaplan has built a tranquil life in his new homeland, at age 76 he begins to struggle with his identity and self-worth. After learning of a mysterious German roaming the shores of a nearby town, he becomes convinced that he has discovered a Nazi war criminal in hiding. Kaplan and his friend embark on a mission to bring the German to justice. Although presented with humor, this film tackles serious topics such as the quest for the preservation of one's identity, culture, purpose and dignity while confronted with continued isolation from one's fatherland.
Oct. 14: "Aqui y Alla" addresses the U.S./Mexican border experience with honesty and hope through characters that go beyond cliché and stereotype. After years of working in the United States, Pedro returns home to his small mountain village in Guerrero. However, life is not like he left it; his daughters are older and more distant. With money saved from his work in the U.S., he hopes to make a better life for his family by starting a band, Copa Kings. Using non-professional actors, director and screenwriter Mendez Esparza gets remarkable performances that provide a richness of nuance and detail to each of his characters. With freshness and authenticity, "Aqui y Alla" confronts the issues and complexities of immigrants returning to their homeland.
The Spanish Film Club series was made possible with the support of Pragda, SPAIN arts and culture, and the Secretary of State for Culture of Spain, with the PSC Black History/Multicultural Committee.
For more information, contact PSC Spanish professor Amber Carey at 850-484-1360.