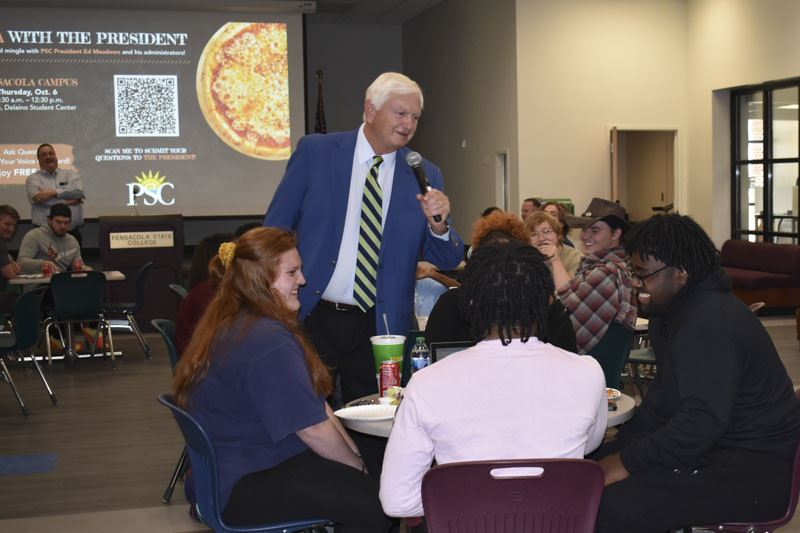 Pensacola State College President Ed Meadows and a cadre of administrators barnstormed through the three PSC campuses – Warrington, Milton and Pensacola – to meet casually with students, answer questions and, most popular, share a pizza lunch with the students.
It was the fall 2022 Pizza with the President Week, with Meadows and administrators meeting with students at Warrington on (Monday, Oct. 3), Milton (Wednesday, Oct. 5) and Pensacola (Thursday, Oct. 6).
Meadows mingled easily with the students, quizzing them on their classes, informing them about school activities and answering questions on everything from why there aren't more creative courses at Warrington – short answer: It's a health sciences campus – to information on academic recognition for part-time students.
Some students had specific questions about scholarship dispersals, transcript information and more that couldn't be answered without further research. In every case, Jon Stephenson, Associate Vice President of Student Affairs, hurried to the students' tables to get their personal information so he could find answers for them and contact them back.
Mei'schelle Daniel, a PSC Medical Assisting student at the Warrington campus, said she would like to see better vending choices.
"The vending machine in our building doesn't work,'' she said.
Soon, Stevenson was at her table writing down information.
But much of each visit featured a relaxed Meadows walking between tables chatting with students about topics ranging from college football to their own fields of study.