Published: 12-15-2022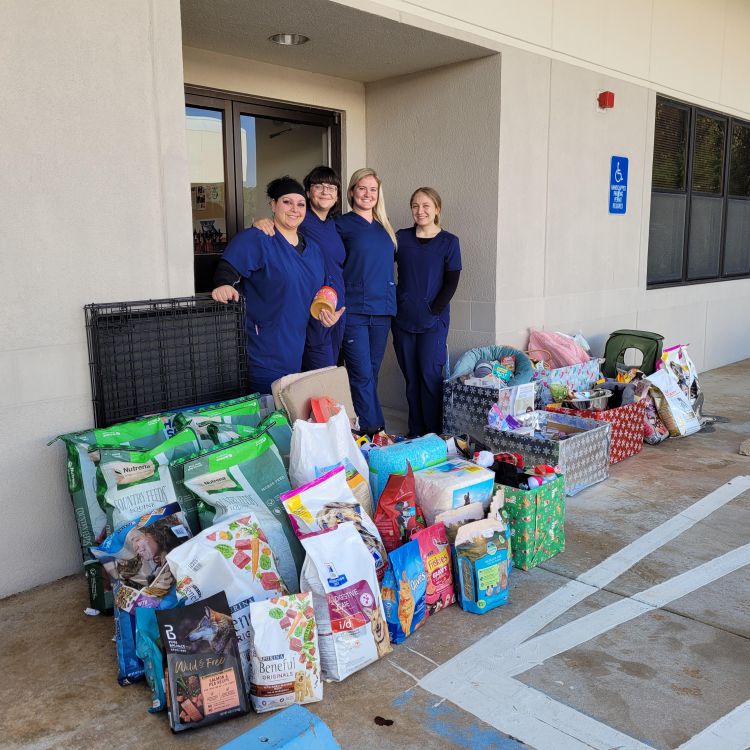 We're Pirates, but we're no plunderers. In fact, the students, staff, faculty and administration at Pensacola State College have a tradition of helping others in need of cheer, comfort or compassion.
This year is no different as various PSC groups have worked to help others during the holiday season:
When a PSC student lost her home in a fire, the PSC chapter of the Association of Florida Colleges rallied to raise funds and needed items for the student, her husband and their 10-year-old son.
The family is staying with relatives in Santa Rosa County. Mel Miner, PSC AFC Chapter President, said her group was able to collect money, gift card donations and, for the child, toys, including a hoverboard that was requested.
"The people at PSC are always very generous,'' Miner said. "It never ceases to impress me that so many are willing to give."
The PSC chapter of the National Association of Veterinary Technicians in America collected items to benefit numerous shelters and animal rescue and welfare groups in Northwest Florida.
The collection included 250 pounds of horse feed, 210 pounds of dry dog and cat food, 175 cans of pet food, 53 bags of treats, more than 153 blankets, beds and toys as well as alfalfa and bedding items.
"We are proud and grateful for our community's shared love for animals,'' said Sarah Meyer, PSC Veterinary Technology Program Director. "I am personally proud of these students for their dedication and selflessness during a rigorous semester."
Each holiday season, volunteers place wreaths on thousands of gravesites at Barrancas National Cemetery at Naval Air Station Pensacola and other military cemeteries across the nation as part of the Wreaths Across America effort.
This year, the PSC Veteran Student Success Center partnered with the local Marine Corps League chapter and the Florida Veterans Support Line to raise money to purchase wreaths for the gravesites.
Various groups and businesses raise money to sponsor the wreaths, and the PSC Veteran Student Success Center held an auction on Dec. 1 to raise funds for the effort. Several gift baskets were donated for the auction which raised $1,300 and which will pay for more than 80 wreaths that will be placed on the gravesites of veterans and military dependents.
"It's a beautiful cause,'' said Jessica Kies, PSC Veteran Student Success Center administrative assistant. "it's a way to spread joy for the holidays and honor those who served their country."