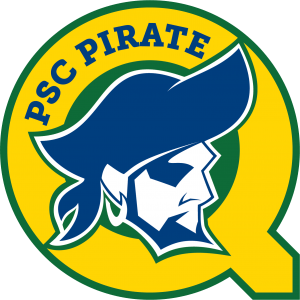 Published: 09-24-2019
Queuing system will tell students their place in line, average wait times
By Troy Moon, Pensacola State College
Yes, Pensacola State College wants you to – true to the school slogan – "Go here. Get there."
But the folks over in registration don't want you to wait forever in their offices just to go/enroll here.
That's why on Nov. 1, the college will roll out its new PirateQ queuing system, which will streamline the registration process, cut down on waiting times and allow registration officials and academic advisors to devote more time to each student's needs.
The new PirateQ system is a product of QLess, a California-based technology firm that designs queuing systems for hospitals, government agencies, educational institutions and other large-traffic facilities.
Kathy Dutremble, PSC Dean of Student Affairs, said PirateQ will be operational at the Pensacola campus on Nov. 1, the first day to register for spring 2020 classes.
She said PirateQ also will be available at PSC's other campuses shortly after Nov. 1, though she added there is a possibility the new system could be active at the Milton campus on Nov. 1.
"We discovered that no matter how much we try to encourage (students) to meet with their advisors and register early, that is not always the case," Dutremble said. "For us, it became a real customer service issue when we might have over 300 students show up on the same day in our Pensacola advising area and expect in-depth visits with an academic advisor to plan schedules and explain the ins and outs and take care of other issues."
Students can access the PirateQ system four ways:
• Download the QLess app
• Text "Pensacola State College" to 850-745-2924
• Through the web at Kiosk.na4.qless.com/kiosk/app/home/51
• On-site kiosks in the PSC registration offices.
Once a student signs into PirateQ, he or she will be able to join the registration line through the system.
Students will be texted or sent information on their place in line for the service requested, whether it's for registration, financial aid or academic advising. Students also will receive updated waiting times sent regularly during the process.
"If they know they have 45 minutes, they might not have to rush out here, or they can take care of other business and errands," Dutremble said. "It reduces their frustration of having to wait. There's so many other things those students need to take care of. And it reduces the anxiety our staff feels when they see a list of hundreds of students."
PSC student Brad Bridges said he can see how the new system will help reduce waiting times and frustration for students trying to register. But he said he hasn't had a problem himself.
"I get mine done early," he said of the registration process. "I like to get it over with as soon as possible. But I can see how it can be a big help for the people who wait."
Dutremble said PSC has been using a "homegrown" registration check-in system developed by the school's management information system staff.
"They created that for us and it served a purpose," she said. "But there are other capabilities that we needed. And PirateQ will do that for us."