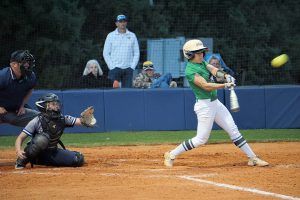 Published: 03-22-2022
Troy Moon, Pensacola State College
The Pensacola State College softball team is ranked 9th in the nation and is currently the top team in the Panhandle Conference.
The Pirates are 26-4 overall and 3-1 in Panhandle Conference play.
PSC plays a doubleheader today, March 22, against conference rival Gulf Coast State College in Panama City.
The Pirate next home games are on Monday, March 28, when PSC plays a double header against another conference foe, Chipola College. Game times are 4 p.m. and 6 p.m.
The Pirates have benefited from both strong defensive and offensive play throughout the season. Lydia Drake has a stellar 1.26 ERA, while Georgia Hood has a 1.46 ERA and also leads the team with 44 runs batted in.
Mya Geros is the team's top hitter, with a .482 batting average.
For more information, including a full schedule, go to https://athletics.pensacolastate.edu/landing/index.