Published: 07-13-2022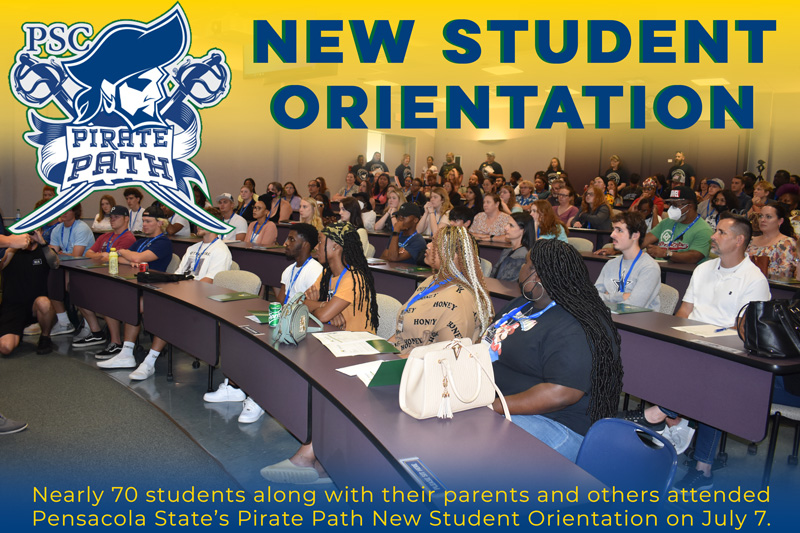 They came from far and they came from near, but it was a full house as Pensacola State College kicked off its Pirate Path New Student Orientation on Thursday, July 7, on the Pensacola campus.
Marnia Thomas was among the nearly 70 new students to attend the two-hour orientation session which began in Building 2, Room 251.
"I'm here because I want to learn about the College and not be stumbling around trying to find everything on my first day," said Thomas, a Booker T. Washington High School graduate who plans to pursue a sonography degree.
Thomas along with friends Mari Mallory, 17, and Joya Smith, 18, said they were excited about starting college. The three also brought along a fourth friend, Adrianna Peasant, 18 who has enlisted in the U.S. Navy.
"We hoped to all stay together, but Adrianna decided to take the military route," Thomas said. "We all want to work in the medical field."
Winning the prize for having traveled the farthest was Anna Urbanic of Ardmore, Alabama.
A 2022 Athens (Alabama) High School graduate, Urbanic, 18, and her mother drove more than 360 miles over six hours for the orientation session.
"I really wanted to go to school in Florida, and I had heard a lot of positive things about Pensacola State College and its nursing program," Urbanic said. "We came down yesterday (Wednesday, July 6) to get here for this session. My mom's very supportive of my dream to become a nurse and I have a cousin who also lives in Pensacola."
Many of the students were glad to get a chance to participate in the on-campus orientation.
"This was really a nice event, it gave me a chance to meet some people face-to-face and familiarize myself with the campus," Urbanic added.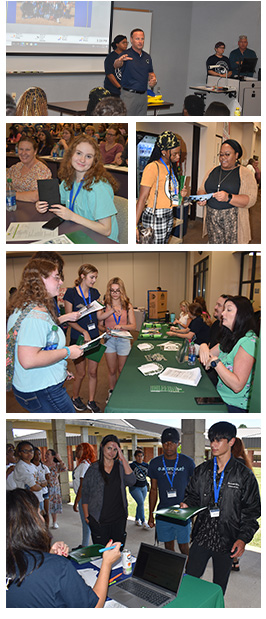 Thomas agreed.
"Even though I live in Pensacola, I really like the opportunity to come onto campus before the first day of classes and learn where my classes will be held, check out the parking situation and just get to know the campus."
Jon Stephenson, associate vice president of  Student Affairs, welcomed students and parents to the College's first in-person orientation in about three years.
The orientation also included Tips for College Success facilitated by PSC recruiters Abigail Bott and Alonda Jones, as well as a PSC/Workday introduction by Samantha Hill, director of admissions, and Sam Smith, Workday Implementation coordinator.
Breakout sessions on Financial Aid, Admissions and Records, Advising and Registration as well as campus tours were part of orientation. A Resource Fair was held in the Student Center with representatives from ADA, Adult Education, Career and Technical Education, ESports, the L.I.F.E. Center, Student Activities Board, Student Conduct and Pirate Cares, Student Government Association, Student Veterans Association, TRIO Educational Opportunity Center, TRIO Student Support Services and Veterans Services.
More orientations are scheduled for later this summer. The sessions include:
Pensacola campus, Hagler Auditorium, Building 2, Room 250
5-7 p.m. July 20; 10 a.m.-noon July 26; and 5-7 p.m. Aug. 2.
Warrington campus, Harrison Student Affairs Building, 3600
1-3 p.m. July 28.
Milton campus, Student Center, Massey Administration Building, 4200
1-3 p.m. July 21.