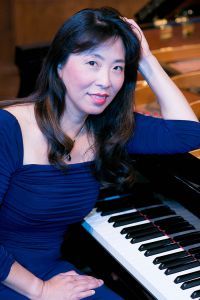 Published: 03-07-2019
Acclaimed pianist Marian Lee will perform at 7:30 p.m. Thursday, March 14, in Pensacola State College's Ashmore Auditorium.
Lee's performance is part of the Sid and Jeannie Kamerman Piano Series. Ashmore Auditorium, Building 8, is on the Pensacola campus at 1000 College Blvd.
Lee, an assistant professor of piano at St. Ambrose University, is a graduate of Juilliard School and earned a post graduate certificate in piano performance from the Moscow State Conservatory where she was a Fullbright Scholar.
She has performed internationally with concerts in Russia, Italy, France, Austria, Belgium, Brazil and Hong Kong.  Lee also has performed on the Millennium Stage at the Kennedy Center in Washington, D.C., and at numerous concerts at the Lincoln Center and Steinway Hall in New York.
The Kamerman Piano Series was established in 2013 to bring concerts by international classical pianists to local audiences.
Tickets are $11, adults; $9, seniors, children, non-PSC students and children; $7 for PSC Seniors Club members, PSC Alumni Association members, and PSC faculty and staff. Admission is free for PSC students with current ID.
Purchase tickets online at www.pensacolastate.edu/mt or at the Lyceum Box Office, Building 8, Room 861, from 8:30 a.m.-4 p.m. Monday through Friday. Tickets also are available at the door, one hour before a performance.
For reservations or more information, call the Lyceum Box Office at 850-484-1847.