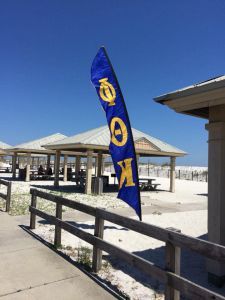 Published: 12-03-2019
Group has established scholarship for human trafficking victims
By Troy Moon, Pensacola State College
Brian Bass is a career military man who spent four years in the U.S. Marine Corps before serving another 21 years with the U.S. Coast Guard.
Andrew Kincaid is a high school senior who wasn't even born when Bass began his military journey.
Though the age differences might seem significant, there's another number that connects them: 3.50. Because that's the minimum grade point average for students to be invited to join Phi Theta Kappa, an international honor society with chapters on the College's Milton and Pensacola campuses.
Both Bass and Kincaid are members of the Pensacola campus Theta Chi chapter of PTK, which currently has about 100 members. Milton's Beta Beta Gama chapter has about 10 active members.
"Right now, I'm holding a 3.7 (GPA)," said Bass, who left the military in 2011 and is studying electronic engineering with a biomedical focus. "But I want to do better."
It's the drive to excel and "do better" that is found in all PTK members, said Biology Professor Jeff Wooters, who has served as the Theta Chi chapter adviser since 1994. (The Theta Chi chapter was founded in 1956; the Milton campus PTK was chartered in 1995.)
"PTK is an honor society for high-achieving students who dedicate themselves to learning," Wooters said. "Scholarship is a big thing we work on, as well as community service, leadership skills and just getting to know everything happening here at the school and the community."
PTK students take that commitment to school and community seriously.
The Theta Chi chapter recently raised nearly $400 in a bake sale to benefit breast cancer research, and in November participated in the Making Strides Against Breast Cancer walk for the American Cancer Society through downtown Pensacola.
Now, the Theta Chi chapter has embarked on a larger project to benefit local victims who have been human trafficking victims. The chapter has established The Transformation through Education scholarship which will help human trafficking victims attend Pensacola State.
"They started doing a little research and discovered Florida is high on the list nationally for human trafficking," Wooters explained. "They did a little more research and found out that it's affecting the Panhandle as well."
The chapter recently held a fundraiser for the scholarship project at Sweet Frog frozen yogurt establishments in Pace and Gulf Breeze, where 20 percent of all sales were donated to the scholarship fund.
Milton's Beta Beta Gamma PTK chapter, though smaller, also has a committed community service agenda and resume. The group raises money for scholarships, has performed beach cleanup, and works to improve the lives of homeless military veterans.
This week chapter members are creating holiday gift bags to be distributed to homeless veterans through the Veterans Administration Hospital in Warrington. Beta Beta Gamma members have collected socks, scarves, stocking caps, gloves and other items needed to battle the elements on the street.
It's a Beta Beta Gamma tradition that began with a Christmas card mailing to veterans, but naturally transformed into an effort to improve the homeless veterans' quality of life.
"It's kids who get involved and want to make a difference," said Carol Hulse, Beta Beta Gamma advisor, who added that veterans sometimes join the students in creating the holiday gift baskets. "It's just so rewarding for them and to actually talk to these veterans."
It is that kind of social and community leadership opportunities that make PTK a special organization, said 17-year-old Kincaid, a dual-enrollment student who plans to earn his associate degree in mathematics before transferring, hopefully, to the University of Florida for his junior year in college.
Though one of the youngest members, Kincaid is the PTK chapter's executive vice president. PTK is part of his family heritage.
"My aunt was part of PTK, as were my brother and sister. So I new about it growing up," he said. "There are a lot of benefits, but for me, it's made me more comfortable in leadership roles and talking to different groups of people."
Former PTK Theta Chi chapter president Rebecca Carlson agreed, saying that "the opportunities provided by the organization encouraged me to develop as a successful, professional person."
Carlson has continued her service to community as a board member and volunteer for Open Books, a Pensacola non-profit organization that operates a book store and program that provides books to inmates in Florida prisons.
"Joining PTK was one of the best decisions of my life," she said. "I am incredibly grateful for the support and the camaraderie of my fellow chapter members."
About Phi Theta Kappa:
Mission: Recognize and encourage the academic achievement of two-year college students and provide opportunities for individual growth and development through participating in honors, leadership service and fellowship programming.
Founded: 1918
Chapters: 1,250-plus worldwide.
Benefits: Nearly $40 million in scholarships are designated specifically for PTK members. Members also receive automatic nominations to the National Dean's List, and their PTK membership is included on all transcripts.
To learn more
Pensacola Chapter – Theta Chi
Email: PTK@Pensacolastate.edu
Jeff Wooters, Adviser
850-484-1160 or jwooters@pensacolastate.edu
Milton Chapter – Beta Beta Gamma
Email: PTKPJCMilton@gmail.com
Carol Hulse, Adviser
850- 484-4480 or chulse@pensacolastate.edu
Details: https://www.pensacolastate.edu/student-clubs/phi-theta-kappa/#student-clubs-001