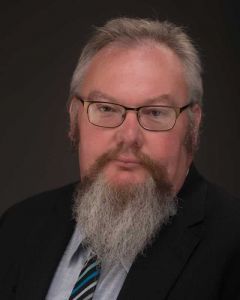 Published: 10-07-2016
Pensacon Executive Mike Ensley presents "Cultural Monsters: Birth of the Modern Horror Film (1968-1988)" at Pensacola State College's monthly Book Talk at 2 p.m., Wednesday, Oct. 19.
The public is welcome to this free, informal event at the Edward M. Chadbourne Library, Building 20, on the Pensacola campus, 1000 College Blvd. A question and answer session follows the lecture and power point presentation.
Bookending his talk with George Romero's "Night of the Living Dead" in 1968 and "Day of the Dead" in 1985, Ensley includes many other classics during the two-decade span such as "The Texas Chainsaw Massacre," "Halloween" and "The Evil Dead."
Besides delightfully scarring audiences across the world, Ensley says that horror films can also provide a way to address society's ills.
"Since the inception of movies, horror has always reflected society's fears on screen," Ensley adds. "Clever writers and directors have found ways to address social issues such as racism, sexism and xenophobia through allegory in film when the direct approach might not have the same impact."
A film buff since he was very young, Ensley says he became interested in horror movies in the backseat of his parent's car at Pensacola's Showtown Drive-In, where the family spent many summer nights during his childhood.
"Watching so many horror films, as I got older I came to realize that often the monsters up on the screen are just aspects of ourselves that are too taboo to tackle head-on," Ensley says.
A pop-culture expert, Ensley co-founded the instantly successful event, Pensacon, held each February. He is a PSC alum who was an award winning member of the Corsair staff in the 1990s and then earned a bachelor's degree in History, Political Science and Communication Arts from the University of West Florida.
For more information, call the PSC Edward M. Chadbourne Library at 850-484-2013.