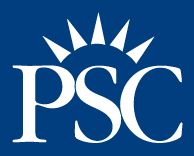 Published: 10-03-2018
The Pensacola State College Wind Ensemble and Jazz Ensemble will hold a free concert at 7:30 p.m. Thursday, Oct. 11.
The public is invited to the event that will held in the Ashmore Auditorium, Building 8, on the Pensacola campus, 1000 College Blvd. No tickets are required, and doors open at 7 p.m.
Directed by Pensacola State's Performing Arts Department Head Don Snowden, the Wind Ensemble's program, "Potpourri," will feature Joseph Turrin's "Regiment of Heroes," Julie Giroux's "Shine," Ed Kiefer's "Resignation" and Rossano Galante's "The Falls."
Jonathan Martin will lead the PSC Jazz Ensemble in a concert featuring arrangements by Mike Tomaro including "Seven Steps to Heaven" by Miles Davis and Victor Feldman, and "In a Sentimental Mood" by Duke Ellington. Other selections to be performed include "There Will Never be Another You" by Mack Gordon and Harry Warren, arranged by Mark Taylor; "The Days of Wine and Roses" by Johnny Mercer and Henry Mancini, arranged by Dave Wolpe; and "Alianza" by Erik Morales.