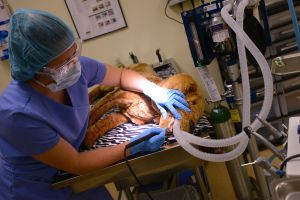 Published: 10-21-2019
The Pensacola State College Veterinary Technology Program Open House is set for 3-7 p.m. Wednesday, Nov. 13, on the Warrington campus.
Visitors will have the opportunity to meet the Vet Tech Program instructors and tour the college's state-of-the-art facility in Building 3200 at 5555 W. Highway 98, Pensacola. The event also includes financial aid information, student organization exhibit and animal ambassadors.
The two-year program covers a wide range of subjects including animal behavior and husbandry, clinical procedures, anesthesia, lab diagnostics, medical and surgical nursing, radiology, dentistry and office management, said Vet Tech Program Director Sarah Meyer-Paterson.
The Vet Tech program prepares students to take the Veterinary Technician National Exam (VTNE). Once a student passes the VTNE, they are eligible to practice as a Credentialed Vet Tech in the state to which they apply to practice. In the past seven years, 76 students have graduated from the Pensacola State program.
The program also is nationally accredited by the American Veterinary Medical Association's Committee on Veterinary Technical Education and Activities, and attracts students from not only Florida – but Alabama, Mississippi, Louisiana and even Maine.
"In the past, we've had students from as far away as California," Meyer-Paterson said. "We also have had several nontraditional students who have entered the field as a second or third career."
Program graduates have an 88 percent VTNE pass rate and Meyer-Paterson describes veterinary technicians as "credentialed multi-disciplined nurses of the veterinary world."
"We are the ancillary staff for veterinarians. The responsibilities of a veterinary technician include radiology, surgical assistance, administering anesthesia and so much more. It's not an easy program; it is a challenging but very rewarding career field," she said, adding students complete supervised clinical rotations at approved area veterinary hospitals.
"This gives students firsthand technical experience working with patients and clients, as well as seeing each hospitals' daily operation and staff interaction."
Also, veterinary technicians can find employment in general or specialty veterinary hospitals, biomedical facilities, wildlife facilities, academia, industry and more. Employment of veterinary technicians is forecast to grow 19 percent nationally, faster than the average for all occupations, through 2024, according to the U.S. Bureau of Labor Statistics.
For more information, email Meyer-Paterson at smeyer-paterson@pensacolastate.edu.