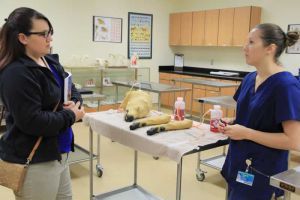 Published: 11-21-2016
More than 50 visitors turned out for Pensacola State's Veterinary Technology program open house held Nov. 10 on the Warrington campus.
Visitors had the opportunity to meet the Vet Tech program instructors and tour the college's state-of-the-art facility in Building 3200. The event also included financial aid information, a student association exhibit and refreshments.
"I was very pleased with the outcome. Of those who came to the open house, I personally spoke to at least 10 prospective students ─ visitors who were very interested in enrolling in our program," said Vet Tech Program Director Sarah Meyer-Paterson. "We had several nontraditional students who were considering the field as a second or third career, and we even had a young lady from California who plans to enroll next fall."
The two-year program covers a wide range of skills including animal behavior and husbandry, clinical procedures, anesthesia, lab diagnostics, medical and surgical nursing, radiology, dentistry, and office management.
Several of the visitors said they were impressed with the program which is nationally accredited by the American Veterinary Medical Association's Committee on Veterinary Technical Education and Activities.
"For as long as I can remember I've always loved animals and wanted to work with them," said Samantha Larant of Pensacola. "When I heard about the open house, I made it my mission to attend. After speaking with the some of the students already enrolled in the program and tutoring the facility, I think this will be a wonderful chance for me to do something I really love and help animals."
Ruthie Smith echoed Laurent's sentiments.
"I'm enrolled in Pensacola State's GED program right now and have heard nothing but good things about the Vet Tech program," said Smith, also of Pensacola. "I've always wanted to work in the health care field and I'm such an animal person. This would be a great fit ─ career wise for an animal lover like myself, a dream come true."
Meyer-Patterson described veterinary technicians as "the credential nurses of the veterinary world."
"We are the ancillary staff for veterinarians. The responsibilities of a vet tech can include radiology, surgical assisting, even administering anesthesia and more. It's not an easy program, it is challenging but very rewarding," she said, adding students complete supervised clinical rotations at approved area veterinary hospitals.
"This gives students technical experience working with patients and clients, as well as seeing a hospital's daily operation and staff interaction."
Pensacola State offers the only Vet Tech program in Northwest Florida. And since it is accredited, program graduates can sit for the national board exam to earn credentials in the state where they choose to practice.
She noted the program not only attracts students from Florida – but Alabama, Mississippi, Louisiana and other states.
Also, vet technicians can find employment opportunities in veterinary hospitals, biomedical facilities, wildlife facilities, academia, industry and more. Employment of veterinary technicians is forecasted to grow 19 percent nationally, faster than the average for all occupations, through 2024, according to the U.S. Bureau of Labor Statistics.
For more information, email PSC Vet Tech program director Sarah Meyer-Paterson at smeyer-paterson@pensacolastate.edu.
FacebookTwitterGoogle+