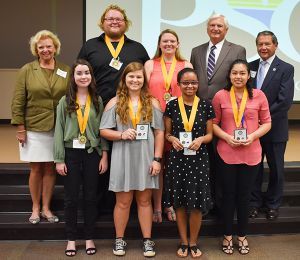 Published: 09-19-2019
By Troy Moon, Pensacola State College
Baleigh Brown graduated from Milton High School at the tail end of May. She'll earn her general studies associate's degree from Pensacola State College in December. Just a few months difference? The math might not seem to add up.
But trust Baleigh. The just-turned-18 knows her math. Science. English and everything else she needs to know so she can earn her first college degree just a few sun-baked months after the high school senior prom.
"I took dual-enrollment classes,'' she said. Then a chuckle. "I took a lot of dual-enrollment classes."
That's just one reason Baleigh is a Pensacola State College Presidential Scholarship recipient for the 2019-2020 school year. Baleigh was one of the eight Presidential Scholars honored at a Recognizing Excellence reception at the PSC Pensacola campus on Tuesday, Sept. 17. The students, most recent high school graduates, were awarded scholarships based on a variety of factors, primarily stellar academic achievement.
Also honored were the 12 Pensacola State College Student Ambassadors —  always dapper in their sharp blue blazers — who are students that represent the College at various events, from college fairs to on-campus functions and receptions.
Like the Presidential Scholars, the Student Ambassadors receive full scholarships to Pensacola State College.
PSC president Ed Meadows said the Presidential Scholars are the "very best we have."
"They are the very best students we could recruit to PSC,'' Meadows told the crowd of students, friends and family who had gathered for the college's inaugural reception for its Presidential Scholars and Student Ambassadors. Meadows then noted that there are "hundreds of other students who have earned scholarships from Pensacola State College this year. So when I say the Presidential Scholarship recipients are the very best we have, they are also the most competitive we have."
"I know you're all going to rise to the challenge,'' he told the scholars. "That was part of the reason you were selected – because of your past background and persistence."
The Presidential Scholars' fields of study range from music to agricultural science.
"They have proven themselves to be transformational leaders, both on and off-campus,'' said Brenda Kelly, dean of academic affairs. "They possess a love of learning and a commitment to enhancing their communities."
Presidential Scholar Kameron Horak is a shaggy-haired, big-grin music major who plays saxophone and piano.
"I always try to diversify myself in everything I do, whether it's music or grades,'' Kameron said. "I like the idea of being a musician and a scholar at the same time."
Meadows noted proudly how the Student Ambassadors cast a positive light on Pensacola State College as they represent the school to prospective students and the community.
"It's really heartwarming to always be greeted with a smile and a warm handshake by the students in blue,'' he said. He added that many will go on to earn scholarships at various universities after earning degrees at PSC. "The journey doesn't end here. It's just the beginning. Our slogan, 'Go Here, Get There'? We believe in that."
Baleigh already knows where she's going and what she wants to do after finishing at PSC.
She plans on earning a master's degree in political science/prelaw at the University of West Florida.
"We're very proud of her,'' said Baleigh's mother, Michele Brown, herself a PSC alumnus. "She knew early on that this was the path she wanted to take, and she really worked hard to accomplish what she has so far."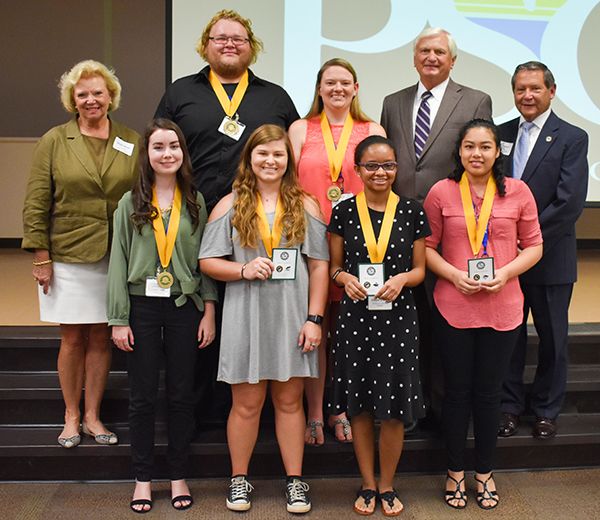 Presidential Scholars:
Noralyz Ayala-Aguero
Katherine Bonifay
Baleigh Brown
Kameron Horak
Mary Nguyen
Mitchell Singleton
Kristina Streeter
Haylee Watson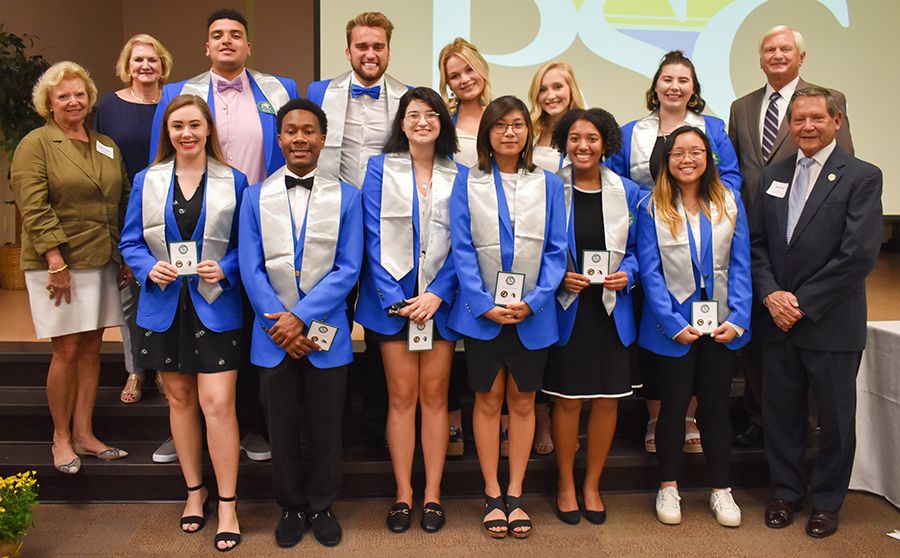 Student Ambassadors:
Abigail Bott
Ashleigh Condon
Caroline Cope
Kailey Cutts
Elijah Alexander
Danielle Horne
Stephanie Le
Jaden McCary
Kim Nguyen
Ariana Robarts
Micah Showalter
Kaylee Taylor