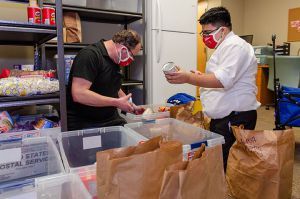 Published: 02-25-2021
Troy Moon, Pensacola State College
The Pensacola State College Warrington campus food pantry was in a small closet with little organization or space.
Now, it's a way cooler food pantry. Literally.
The Warrington, as well as the Pensacola campus, received new refrigerators for their respective pantries, allowing the College to now store refrigerated and frozen items to give to students in need.
The refrigerators were donated by the Lowe's on Airport Boulevard to help the PSC SkillsUSA chapter improve the pantries. The Pensacola campus pantry was already established, and the only change was the addition of the refrigerator.
At the Warrington campus, the College's SkillsUSA students, also helped install new shelving donated by Lowe's, and organized the pantry, putting various food items in specific plastic bins.
The food pantry activity was part of the SkillsUSA Florida Region 1 Leadership and Skills Conference, which just concluded. Part of the conference competition was a photography competition, and PSC student Amelia Moore won a Gold Medal for her photos of PSC students and staff working on the Warrington pantry.
SkillsUSA students also held food drives to help stock the pantries.
"With the help of the administration and Lowe's, we were able to really make a difference with the Warrington food pantry," said Jennifer Ponson, PSC Student and Program Outreach Coordinator, as well as SkillsUSA Region 1 Coordinator and PSC SkillsUSA chapter founder. "It really was a group effort."
PSC Wellness Case Manager Jessica Johnson said the pantries are important to the College, especially in the midst of the COVID-19 pandemic.
"We have many PSC students who are significantly food insecure," Johnson said. "This was an issue before COVID, but now it's much more of a concern. We have students seeking help who have never had to use the pantry resources before."
She said that through the first two months of 2021, PSC food pantries have distributed more than 100 bags to students.
"It's been a rough few months for many students," Johnson said. "We just want to do what we can to help them."