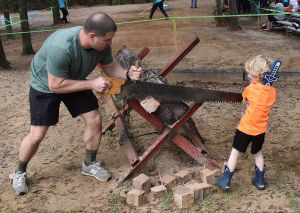 Published: 06-02-2021
Troy Moon, Pensacola State College
After a year's absence because of the COVID-19 pandemic, Pensacola State College will host the 32nd annual Northwest Florida Forestry Conclave and Lumberjack Festival on Oct. 2 at the Milton campus.
The popular festival was last held in 2019.
"It was pretty disappointing," Milton campus dean Jennifer Hill Faron. "We had everything planned and ready and then COVID hit. But we're excited to bring it back in October."
The festival will take place near the outdoor track and softball fields. In previous years, the festivities had been tucked behind Building 4200. Moving the festival provides more space for participants, spectators and vendors.
Event categories will be offered for both children and adults.
Admission to the festival is free, though there is a $5 competition fee for those who want to participate in an event. There is no competition fee for senior citizens and students.
The hours for the festival have not yet been released. More details will be available as the festival approaches.