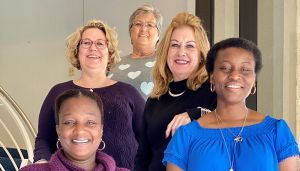 Published: 01-09-2020
Pensacola State College's Association of Florida College chapter received the Platinum Chapter Award at the 70th AFC Annual Meeting and Conference held Nov. 6-8 in Innisbrook.
"Aside from the Chapter of the Year, this is the highest chapter award level," said Mel Miner, Pensacola State's AFC chapter president. "We also had several members who were honored at the annual conference."
Carol Quinn received the AFC Distinguished Service Award which is presented to AFC members for exceptional achievement at the chapter, region, commission and/or state level.
Tracy Price and Alonda Jones received PSC Chapter Unsung Hero Awards which are presented to individuals for providing exemplary service behind the scenes.
"These two AFC members have done amazing things this past year – writing emails, articles and creating flyers on demand," Miner added.
Traci Jones received the PSC Chapter Life Saver Award for "saving the day more than once and making herself available for anything the chapter needs."
Obi Kalu was named the Career and Professional Employees Commission Employee of the Year. The award is voted on by the commission for model employees who exceed the expectations of his or her job duties.
Tammy Henderson was nominated for the Administration Commission Leadership in Excellence Award but was not selected. She received a certificate for her nomination and was recognized at the commission meeting. Also, Miner graduated from the Certified College Professional Program.