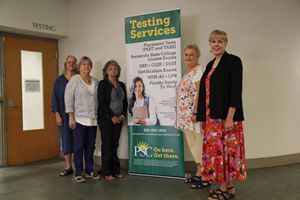 Published: 06-11-2019
Pensacola State College's Testing Center has been recertified by the National College Testing Association (NCTA).
Criteria for certification are rigorous and are based on the NCTA Professional Standards and Guidelines, which were developed to guide post-secondary test centers in the delivery of quality testing programs.
Located in Building 6 on the College's Pensacola campus, the Testing Center offers placement tests, industry certification tests, entrance tests, proctored exams for other institutions (colleges and businesses), departmental exams, eLearning exams, make-up exams as well as scan and score exams.
"The center also provides test analysis reports based on scanned and scored exam results and testing assistance to Student Resource Center for ADA Services for students as needed," said Kathryn Quillen, center director of Testing and Assessment.
The Testing Center was recertified on May 22.
Organized in 2000, the NCTA is a non-profit organization of testing professionals working in post-secondary institutions, in companies with test-related products and services, and in other professional testing venues.
The Testing Center adheres to the NCTA Professional Standards and Guidelines to ensure that examinations are administered professionally, equitably and fairly in a courteous, confidential and secure environment.
The Testing Center is also a certified PearsonVue Select Testing Center. PearsonVue is the leader in computer-based testing.
The PSC District Testing Office also is a member of the Florida Association of College Testing Administrators.