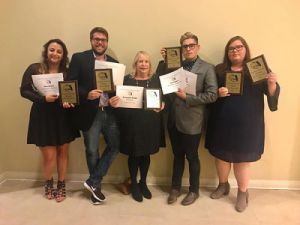 Published: 10-31-2017
Pensacola State College students won an impressive number of awards at the 2017 Florida College System Publications Association Awards held Oct. 11-14 in Orlando.
The Corsair won second in the General Excellence category along with six first-place awards, two other second-place awards and four third-place awards. Dr. Paula Ingram is the faculty advisor for the student newspaper.
The Kilgore Review placed first in the General Excellence category in the Magazine, Division A, and won three other first-place awards, five second-places and two third-place awards. Mike Will is the literary magazine's faculty advisor.
Individual awards The Corsair won include:
General Excellence: Second place
Advertising Design: First place, Travis Hajenga
Editorial: First place, Jay Phillips
Feature Story: First place, Becca Carlson
Feature Photography: First place, Becca Peters
Comic Strip" First place, Katherine Chen
Illustration: First place, Izzy Gardner
Design: Second place
Sports Photography: Second place, Sean Minton
News Photography: Third place, Sean Minton
Picture Story: Third place, Corsair Staff
Sports Column; Third place, Jay Miller
Humor: Third place, Jay Miller
Inner Circle Award (The student placed in three or more categories): Jay Miller
Individual awards The Kilgore Review won include:
General Excellence: First place
Cover: First place, Bara'ah Jaraiseh
Individual poetry: First place, Devon Kraeger
Art Works– Magazine: First place, Katherine Chen, Antoine Clay, Jocelyn Marissa Stone
Design: Second place, Bara'ah Jaraiseh
Two-Page Spread Design: Second place, Antoine clay, Bara'ah Jaraiseh, John Charles Roddy
Overall poetry: Second place, Devon Kraeger, John Charles Roddy, Jolene Wolfe
Photo – Magazine: Second place, Nick Bridges, Bara'ah Jaraiseh, Gretchen Scott
Editing: Second place, Lila Fitzpatrick, Tracey Squaire
Individual Artwork: Third place, Antoine Clay
Photo – Individual: Third place, Nick Bridges
Inner Circle Award (The students placed in three or more categories): Bara'ah Jaraiseh, Antoine Clay