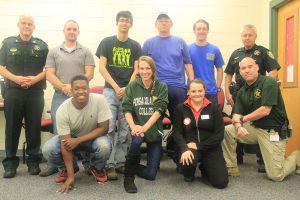 Published: 04-04-2017
Imagine for a moment, you are a law enforcement officer.
How would you react to approaching a vehicle where one of the three occupants pulls a gun and starts firing – at you?
What about attempting to handcuff an irate man who tries to pull an "unknown" object from his pocket?
Or what about trying to calm a suicidal man who is intent on jumping off a bridge?
These were among the scenarios a group of Pensacola State College students found themselves in a few weeks ago. No, the students are not law enforcement officers but were being taught at the Santa Rosa County Sheriff's Office's simulation training facility in Milton.
"This training gave my students some up-close and personal exposure on what to expect as a law enforcement officer," said Pensacola State adjunct professor Shane Tucker who also is a Santa Rosa County Sheriff's Office criminal investigator.
"It was incredibly important and beneficial to my students. Everyone is impacted by the police and interaction with law enforcement."
The Police Operations course students – Charon Stewart, Trey Gorday, Justin Townsend, Hollie Nance, Rachael Glass, Nathan Bishop and Cory Smith – described the experience as eye-opening.
"Standing there with a gun in my hands during the training simulations really showed me how important well-timed decision making is when you're a law enforcement officer," said Stewart, a criminal justice major.
Stewart, who plans to enlist the U.S. Army this summer and become a military police officer, said the training was an unbelievable experience.
"As a law officer, you have to know when to use force and when not to use force and sometimes it must be a split-second decision. Decision-making is key. It really takes a good person to put on that uniform every day and be a leader," the 21-year-old added.
An unruly woman at a government board meeting was Stewart's most-difficult scenario, he said.
"She was being noncompliant – even after I asked her several times – to calm down and leave the meeting room," he recalled. "At some point, I knew I would probably have to use force but I did not want to abuse my power as a law enforcement officer."
Santa Rosa County deputies – Capt. Tucker along with Lt. Chris Vance and Shawn Swindell – critiqued each student about their responses to the individual scenarios.
Tucker said he was impressed with his students' performance.
"They dealt with some pretty difficult scenarios. I was really surprised with how well-prepared they were – they vocalized commands and used good, sound judgment," said Tucker, who has been with the sheriff's office for more than 18 years.
Glass said her most harrowing scenario was arriving at a call to find an officer down and an uncooperative suspect.
"I really learned the ramifications of not acting quickly enough. I didn't act quickly enough and it cost an officer his life," the 27-year-old said of the scenario. "It happened so fast, I didn't have time to react."
Both Stewart and Glass said they learned the importance of complying with a law enforcement officer.
"After the training, I've gained a new perspective and walked away with more respect for the jobs that officers perform every day," Glass said. "This training was a once-in-a-lifetime opportunity for me as a regular citizen and an absolute necessity for anyone considering a career in law enforcement."
Stewart agreed.
"I would recommend this training to everyone – not just people pursuing a law enforcement career," he said. "It gives a good glance into what law enforcement officers deal with every day. These were simulations for us but real life for the men and women who put on law enforcement uniforms every day."