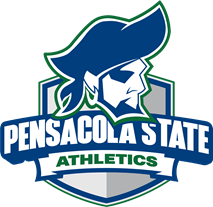 Published: 05-01-2020
Fourteen Pensacola State College student-athletes will continue their academic and athletic careers at Division I, Division II and NAIA institutions this fall.
More student-athletes are expected to sign letters of intent later this spring and summer. So far, the Pirates who have signed include:
BASEBALL
Three baseball players – Dominick Miller, Logan Miracle and Xavier Bussey – have signed with Division 1 Troy University, Nicholls State University and North Carolina A&T University, respectively.
Miller, a left-handed pitcher, is from Pensacola. Miracle, a right-handed pitcher, is from Southside, Alabama, and Bussey, an outfielder, is from Garner, North Carolina.
MEN'S BASKETBALL
Men's basketball players – Shawndarius Cowart, Carlos Rosario and Bryce Waterman – have signed with Division 1 Hofstra University, McNeese State University and Purdue University-Fort Wayne, respectively.
The three were named to the All-Panhandle Conference First Team. Cowart also was selected to the Region VIII All-State Team.
Cowart and Rosario will graduate from Pensacola State this spring. Cowart, a Pensacola High graduate, is a guard. Rosario, a forward, is from Albany, New York. A forward, Waterman is from Albany, New York.
WOMEN'S BASKETBALL
Three Lady Pirate basketball players ― Kaiya Burnett, ZaMaria Polk and Lenaejha Evans ― have signed with Division I Jacksonville State University, Cleveland State University and Rider University.
Burnett was named to the All-Panhandle Conference First Team and Polk was named to the Second Team.
Burnett, a guard is from Trenton, New Jersey. A forward, Polk is from Detroit and Evans, a guard, is from Conway, South Carolina.
SOFTBALL
Softball players Kat McGlamry and Madison Myers have both signed letters of intent with Division 1 Alabama State University in Montgomery, Alabama.
As a freshman, McGlamry was selected to the NJCAA All-Academic Third Team, FCSAA All-Academic Team and named a Panhandle Conference All-Academic. A Crawfordville, Florida, native, McGlamry is a catcher.
An outfielder, Myers is from Brownsville, Tennessee.
VOLLEYBALL
Three volleyball players – Beaudine Verweij, Jordan Wood and Madison Fisher – have signed with Division 1 University of North Carolina-Greensboro, NAIA University of Mobile and Division II University of West Alabama.
A middle hitter, Veweij is from the Netherlands. Wood, also a middle hitter, is from Mobile and Fisher, an outside hitter, is from Belleview, Florida.