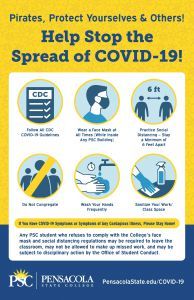 Published: 01-08-2021
Troy Moon, Pensacola State College
Pensacola State College's Spring semester started Friday and everyone knows the routine:
Wear a mask. Make sure you're social distancing. Wash your hands. Stay safe.
Forget your mask? Pensacola State College has tens of thousands available. Worried your desk might be too close to a classmate's desk? Don't worry. All classrooms have been measured and desks arranged – and limited – to keep everyone at a safe distance. Need to disinfect your hands? There are 300 hand sanitizing stations set up in common areas, outside classrooms, and throughout PSC campuses and centers.
PSC is asking students, faculty, and staff to be vigilant about following the College's COVID-19 Response Plan that was issued during the 2020 Summer term and was in place for the recent Fall semester. The College is also working to add even more safety features to ensure the well-being of students and staff.
"We're doing everything we can to implement safety procedures to ensure that employees and students are safe," said Erin Spicer, PSC's Vice President of Academic and Student Affairs. "The Fall semester went well, and no in-class (COVID) transmissions were reported. We want that to continue."
Spicer said that PSC Department Heads are adding plexiglass barriers in classrooms and instructor offices to add another layer of protection against COVID transmission, and the College is also installing purifying air filters throughout its campuses and centers. The College is also adding new COVID-19 informational signs across its properties to remind students and staff to keep practicing COVID safety protocols. Spicer said the new signs are to provide a fresh visual reminder that PSC is serious about keeping COVID off campus.
Students who don't observe the protocols could face disciplinary actions, Spicer said.
"Students who refuse to comply with face mask and social distancing requirements can be asked to leave class and may not be allowed to make up missed work," Spicer said. "Students who do not comply with the requirements may also be subject to disciplinary action by the Office of Student Conduct. So far, students have been really good about following the requirements and the few compliance issues we have had were addressed."
The number of COVID cases in Northwest Florida is showing no signs of slowing down. During the last week of December, Escambia County reported its highest number of new cases since the pandemic began in spring, according to the Florida Department of Health. There were 1,871 new COVID cases in Escambia County during the final week of 2020, more then 300 cases higher than the previous weekly high in July. Santa Rosa County also experienced its highest rate of new COVID cases in the last week of December – 1,197. The previous high was just two weeks earlier when Santa Rosa County reported 856 new COVID positive results.
Since the beginning of the pandemic, PSC has initiated numerous efforts to combat the spread of COVID, including the purchase of:
• 31,000 face masks
• 4,000 face shields
• 500 N95 masks
• 410 Plexiglass shields
• 500 gallons of hand sanitizer
• 500 25-count packs of hand wipes
• 5,000 100-count canisters of disinfecting wipes
• 1,500 80-count Lysol wipe packs
• 2,000 keyboard skins
• 240 cans of spray disinfectant
• 300 sanitizing stations
• 510 refills for sanitizing stations
• 200 100-count boxes of Latex or Nitrile gloves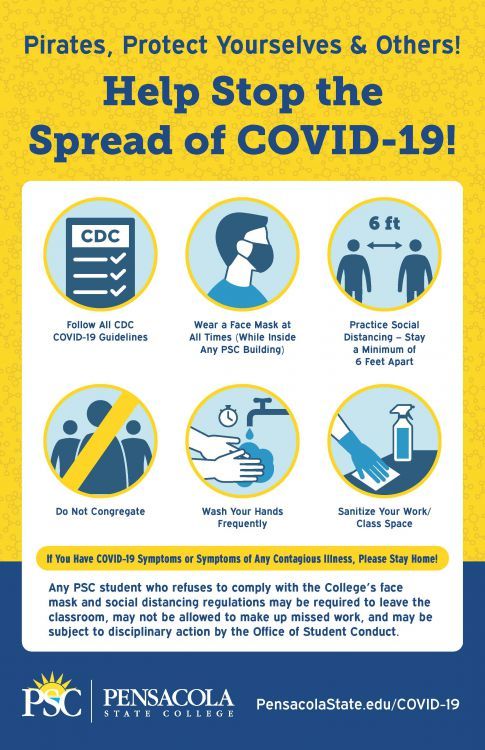 And those supplies don't include cleaning and disinfecting items used nightly across PSC properties by the College's custodial service.
PSC student and military veteran Tobias Watkins sat in the PSC Student Center on Wednesday, a black mask with his named emblazoned across it, waiting to talk to a Financial Aid advisor. He's a licensed practical nurse who is trying to earn his Bachelor of Science in Nursing degree. Even though the Nursing program is completely online, Watkins must first take a lab that will require him to attend PSC in person. He's confident that PSC is doing all it can to ensure students' safety.
"There are signs and (disinfecting) stations all over," he said. "It seems like (the College) is serious about it."
(So is Watkins. He has a small keychain hand sanitizer attached to his backpack.)
Watkins is one of many students who will be attending some type of face-to-face class during the spring semester. Still, for the second consecutive semester in PSC's 72-year history, there will be more online and hybrid classes offered than face-to-face classes.
"Many of our classes and programs cannot be offered as online classes and students such as Mr. Watkins who need certain classes will be on campus. Additionally, students have been requesting more face-to-face options, particularly in math and science classes, and the College is obligated to offer this traditional method of instruction to ensure every opportunity for student success," said President Ed Meadows.
Spicer said that overall more classes this semester are currently offered as face-to-face classes compared to the Fall semester, but the distribution of delivery methods varies by department and can change daily as department heads add or cancel sections due to enrollment trends. The percentage of face-to-face classes will likely decrease as more online sections are added, particularly for the C and D sessions.
"We have increased the number of face-to-face classes for spring compared to the fall," she said. "But we are not at all back to the percentage of face-to-face classes that we offered before the pandemic began."
Though PSC is acting diligently in response to the COVID threat, Spicer added that students and employees must also be vigilant on their own.
"The safety precautions we put in place at the College help keep everyone safe on our campuses and centers. I have been working on campus this whole time and I do feel safe." Spicer said. "Until the COVID vaccine is widely available, everyone must also be careful and take appropriate precautions at all times off campus such as at the grocery store or visiting with family or friends so that we can help keep each other safe."