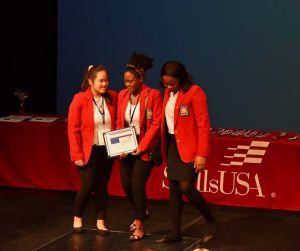 Published: 03-07-2019
Pensacola State SkillsUSA student-members made an outstanding showing at the Regions 1 SkillsUSA Spring Conference held Feb. 20 at the College.
SkillsUSA student-members won 12 gold medals, six silver medals and six bronze medals at the competition. Four Pensacola State faculty and staff members also were recognized at the conference.
SkillsUSA promotes workforce and industry opportunities for middle school, high school and college students. The organization has more than 350,000 members nationwide and serves as a partnership between students, teachers and industry working together to ensure the United States has a skilled workforce.
The following students placed at the conference and will advance to the SkillsUSA Florida 2019 State Leadership and Skill Conference set for April 7-9 in Pensacola.
Barbering
First place: Jamie Gibson
Second place: Demario Belk
Advisor: Sherry McCrea
Cabinetmaking
First place: Andi Shaw
Advisor: Tony Grahame
Carpentry
First place: Daniel Sarfert
Advisor: Tony Grahame
Commercial Baking
First place: Troy Berry
Second place: Allison Von Brock
Advisor: David Langham
Cosmetology
First place: Alyana Gonzales
Third place: Koriaun Lewis
Advisor: Kimberly Markwick
Culinary Arts
First place: Charles Coxson
Second place: Kristine McMillian
Third place: Bradley Stimmell
Advisor: David Langham
Culinary Quiz Bowl
First place: Team A ─ Amanda Thomas, Kelli Cunningham, Kim Armstrong and Tiara Rugg
Advisor: Joni Verlin
Esthetics
First place: Team A ─ Tracy Curry, Tiffany Dilley
Second place: Team B ─ Christina Smith, Mandolyne Harris
Advisor: Sonja McCall-Strehlow,
Heating, Ventilation, Air Conditioning and Refrigeration
First place: Michael Grove
Third place: Winder Willis
Advisor: Glen Gorman
Job Skill Demonstration A
First place: Amanda Stores
Advisor: Julie Burger
Medical Assisting
First place: Billy Morris
Advisor: Mary Turner
Medical Math
Third place: Christina Zaccardi
Advisor: Sarah Meyer-Paterson
Photography
First place: Nicholas Bridges
Second place: Kendall Sainata
Third place: Jay Dunham
Advisor: Mark Francis
Related Technical Math
Second place: Danielle Suggs
Advisor: Julie Burger
TeamWorks
First place: Team A ─ Brandi Duplechain, Dannon English, Jeffrey Crane and Shawn McCarter
Advisor: Tony Grahame
Welding Fabrication
Third place: Team D ─ Alana Lance Taylor, Asa Watkins and Travis Tanner
Advisor: Jacob Redwing
Faculty and staff members receiving awards include Mary Turner, Jim Sullivan Champion Award; Mark Francis, Region 1 Advisor of the Year; Theresa Hoang, Alumni of the Year; and Rebecca Gunter, Champion of the Year.
For more information on SkillsUSA, contact Shelia Nichols at 850-484-1428 or snichols@pensacolastate.edu.