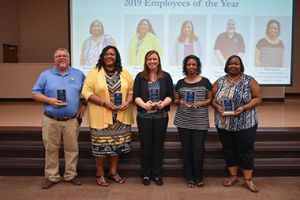 Published: 07-15-2019
Pensacola State recognized five of its own during the College's 2019 Employees of the Year ceremony held Thursday, June 27.
Colleagues, family and friends filled the Delaino Student Center on the Pensacola campus as Pensacola State President Ed Meadows presented awards and lauded each honoree.
The 2019 Career Service Employees of the Year are Renee Hosea, Purchasing Specialist, Purchasing and Auxiliary Services; and Mary Scott, Executive Assistant, Institutional Diversity and Student Conduct.
Hosea has been with the College for more than 13 years. Scott has worked at Pensacola State for 38 ½ years.
The 2019 Professional Employees of the Year are Rhonda Likely, Assistant Director, Human Resources; Jessica Millis, District Supervisor, Writing Lab, English and Communications; and Greg Oliver, Maintenance Manager, Facilities, Planning and Construction.
Likely has 37 years of service to the College, while Mills has been at Pensacola State for six years. Oliver has worked at the College for 28 years.