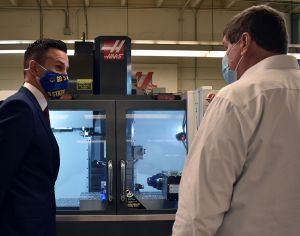 Published: 02-04-2021
Troy Moon, Pensacola State College
Henry Mack III had heard things about Pensacola State College. Good things.
Mack III, the Florida Department of Education's Chancellor for Career, Technical and Adult Education, visited Pensacola State for the first time on Wednesday ─ touring various CTE and Adult Education programs.
"Pensacola State College's reputation precedes it in Tallahassee," Mack III said. "As we think about an integrated CTE workforce education system, I'm interested in those colleges like Pensacola State that do it all, frankly."
Mack III has been in his position since November 2019.
His visit began with meeting Pensacola State President Ed Meadows and other administrators, who shared information on the College's various campuses and their missions. Meadows also mentioned PSC's many honors and accolades, including the RN-to-BSN Program's No. 2 ranking among Florida College System institutions in the "2021 Best Online Bachelor's Programs" by U.S. News and World Report.
After the briefing, Mack III toured a few programs and facilities with PSC Director of Applied Technology and Professional Services Michael Listau, Dean of Grants and Federal Programs Debbie Douma and Senior Dean of Academic Affairs Brenda Kelly. Mack III was joined by Fred Piccolo, the Florida Department of Education's Executive Vice Chancellor for Colleges.
The first stop was the Anna Lamar Switzer Center for Visual Arts, where Mack III visited graphics design instructor Mark Hopkins' Environmental Design class, where students were creating ornate visual information graphics. Mack III was pleasantly surprised to learn that Pensacola State offers a Bachelor of Applied Science Degree in Graphic Design Business and Management.
"That's great, really interesting," he said, before asking Hopkins more questions about the program, including course load and program duration. "There's a lot of creativity here."
Mack III next stopped at the Adult Education Program, where he met with Adult Education Director Debby Meyer. The two talked about various issues such as the need to fortify the path between adult education and postsecondary education.
"The talk of Tallahassee is adult education, because thinking about education without including adult education is misguided. We need to link to postsecondary education and training," said Mack III who thanked Meyer and PSC for helping adult education students make the jump to postsecondary education.
His last stop was to the Mechanical Design and Fabrication Program, where program coordinator Mike Cannon showed him various state-of-the-art technology the College uses.
Cannon sent Mack III and Piccolo home with a couple of wooden coasters with the PSC insignia that were created in the program.
Mack III came to PSC hearing about the College's reputation. He left knowing the reputation is earned.
"It's unbelievable," Mack III said about his visit and impressions. "The level and qualify of equipment the College uses is incredible. And the enthusiasm of the instructors and the commitment to postsecondary education is impressive. Among the 28 state colleges, certainly PSC is well up there."