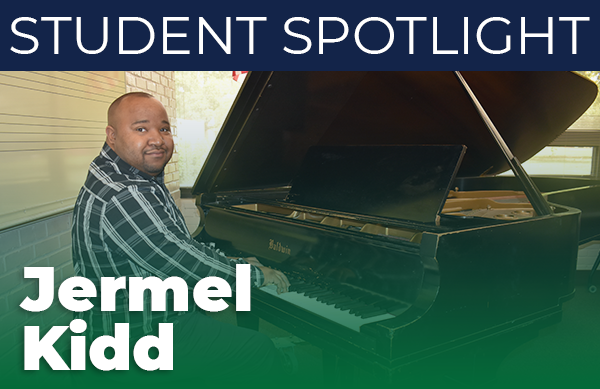 By Troy Moon
Pensacola State College
Jermel Kidd has been practicing his classical piano chops for hours each day preparing for an audition that will propel him forward.
On Friday, May 5, Kidd, a Pensacola State College piano student, will audition for faculty from the University of West Florida Dr. Grier Williams School of Music. Kidd, 38, is hoping to earn acceptance and a scholarship.
"I've been practicing for about eight hours a day,'' said Kidd, a former police officer who is music director for Transformation Church on Mobile Highway. "I play gospel and jazz. But (the audition) is all classical and it was a little out of my element. It's been nonstop practice and study."
It wasn't always nonstop practice and study for Kidd. See, he was a music student at then-Pensacola Junior College about 18 years ago, studying piano under instructor Michael Coleman, an award-winning pianist and composer.
"He was very serious,'' Kidd said of his instructor. "I was not. I was a horrible student. (Coleman) would find my theory book outside. I was hyper and not committed or serious about what I was doing."
Coleman said he wasn't that bad.
"He might not have been as serious as he could have been, but he was like a lot of other young students who don't really know the direction they want to go into," Coleman said.
Kidd said he would constantly bombard Coleman for chords to use for his church performances.
So much so that Coleman eventually wrote a piece for piano titled "Hanging Out with Jermel."
Kidd claims that the sometimes tense and dissonant nature of the piece is a product of Coleman's frustration with him.
Coleman said there might have been "a little frustration" that prompted the piece, but it was largely to give Kidd something to work with.
"It was mainly highlighting a lot of chords he could play with,'' Coleman said. "Even then, he was a really gifted student."
Now, Kidd is a student of Coleman once more and even performed "Hanging Out with Jermel" at the student recital in April.
"He's been such a great influence for me,'' Kidd said of his instructor. "When I decided to come back, I wanted Dr. Coleman teaching me again."
Coleman said Kidd has completely devoted himself to his playing this year.
"His work ethic has become fanatical,'' Coleman said. (Sure enough, heading to interview Dr. Coleman for this story, I ran into Kidd heading into the Ashmore Auditorium to practice on the College's grand piano – he has a digital piano at home.)
"He has so much talent and a real gift for improvising. I'm just really proud of him," Coleman added.
It was Kidd's wife, Danyale, who inspired him to pursue a degree in music after nearly giving up on the dream years ago.
"I wasn't worried about school,'' he said. "I was a professional playing in church. I was getting paid a salary. My pastor told me it didn't matter if I had a degree or not. But then I went to my wife's graduation in December. She just earned her master's degree in nursing from UWF and is a nurse practitioner. I saw her walk in her graduation and said 'Wow, that is so cool.' Then it hit me, no matter how good I am now, if I wanted to teach I couldn't. Seeing her graduate did something to me."
Kidd learned to play piano 27 years ago in his former church, Ebenezer Baptist Church. His mother was extremely involved in the church and served as choir director. Kidd became inspired by the church musicians.
"I would watch them then go home and practice,'' he said. "I'd learn a few chords and just kept learning."
After about a year, his mother enrolled him in private lessons. He's played ever since, though he never earned a musical degree.
"I just wasn't ready then,'' Kidd said of his previous musical attempt at the College. "I am now. I spent some time in law enforcement and I'm much more mature and focused then when I was younger."