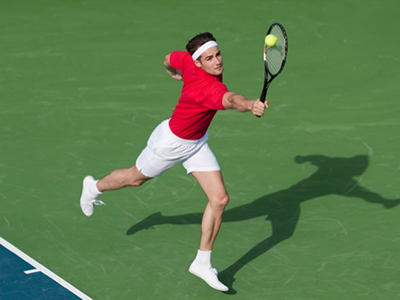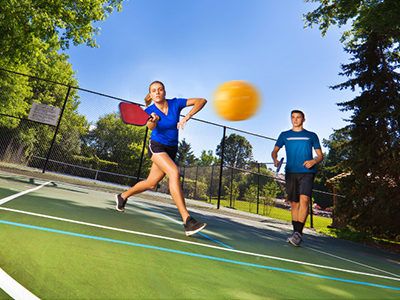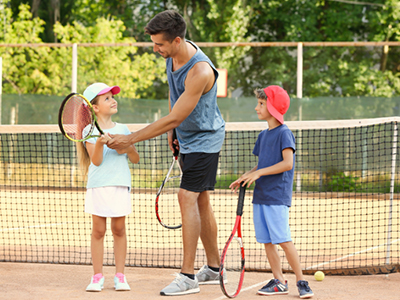 One of the world's most time-honored sports and one of the nation's fastest-growing sports are coming to Pensacola State College.
The College and the United States Tennis Association will offer a six-week adult tennis clinic for intermediate players that begins Friday, May 12, at the tennis complex on the Pensacola campus.
Pensacola State recently received two USTA grants ─ totaling $8,438.56  ─ for new tennis equipment, programs and court improvements. A USTA representative will attend the May 12 clinic opening celebration.
Though the initial clinics are for intermediate players, future clinics, also in association with the USTA, will be for other skill levels.
A separate six-week cardio-tennis clinic will offer group heart rate training, a "progressional" sport-specific warm-up, high-energy fitness music, cardio blasts, cardio balls, and the agility ladder. The focus is on the workout, specifically training the proper heart rate zones.
The College also will host a six-week pickleball clinic beginning May 12. A limited number of pickleball paddles will be available for use. Attendees are urged to bring their paddles if they own one.
According to the Sports and Fitness Foundation, pickleball was the fastest-growing sport in the United States in 2021 and 2022. Pickleball ─ with smaller courts than tennis ─ is a sport that combines elements of table tennis and tennis and is considered less strenuous than traditional tennis.
The clinics run each Friday from May 12 through June 16.
The Men's Intermediate Tennis Clinic is 8-9:30 a.m. and costs $120.
The Women's Intermediate Tennis Clinic is 9:30-11 a.m. and costs $120.
The Cardio Tennis Clinic is 11 a.m.-noon and costs $90.
Pickleball is from 11 a.m.-noon and costs $90.
Coaches from Gulf Breeze-based Tighten Up Tennis will lead the clinics.
"Pensacola State College has always served the tennis community in Northwest Florida by providing access to the college courts, but we are excited to take this alliance to another level,'' said George English, USTA Florida Tennis Service Representative.
"Awarding the grants to PSC demonstrates our belief that they will grow and support the game of tennis with high-quality programs. I am thrilled to see the program starting soon and look forward to being on the PSC campus during the grand opening. "
Tricia Sheridan, PSC Continuing Education coordinator, said a goal of the clinics is to celebrate the College's continuing support of public tennis in Northwest Florida. The College's tennis courts are free and open to the public.
"PSC has always welcomed the community to the campus for tennis,'' said Sheridan, who attended a PSC Continuing Education tennis clinic in the 1990s.
"This is just an extra push to showcase PSC and offer more opportunities to the people of Northwest Florida."
Also, the College will offer Summer Tennis Camps for children this summer. A tennis camp for children ages 5 through 8 will be held  8:15-11:45 a.m. June 26-June 30.
A tennis camp for children 9 through 12 is from 8:15-11:45 a.m. July 10-14.
The cost for each camp is $250.
For more information and to enroll in a clinic or youth tennis camp, visit https://pensacolastate.estore.flywire.com/pensacola-campus.