Published: 12-15-2022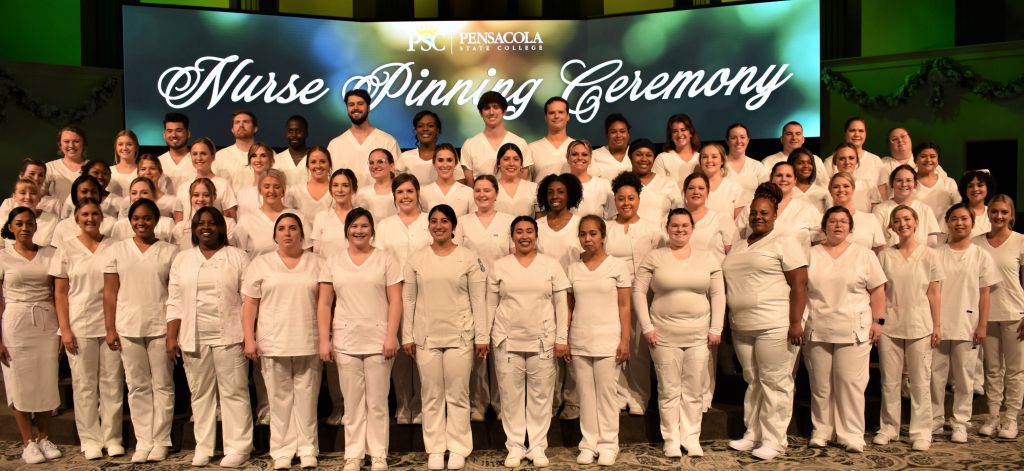 Just days before graduation, more than 50 Pensacola State College nursing students recited the Florence Nightingale Pledge and received nursing pins at the 2022 Fall Pinning Ceremony.
Nikki Francis was one of the students pinned at the Dec. 8 ceremony at First Pentecostal Church on Pensacola Boulevard. Ninety students earned their nursing pins, but not all attended the ceremony.
There were times during Nikki's studies when she wasn't sure if she would make it through. She would, but she would have to sacrifice so much – including signing over temporary guardianship of her 4-year-old son, Tyceon, in September to her mother who was going to Texas.
She was working and raising a child while in school, but her grades were faltering, and she would have to cut back on her work hours to make it work.
"I didn't have the finances to take care of him and go to school and it was so hard to get him to and from school and me to and from school,'' Francis said. "I talked to my Mom, who is my biggest supporter, and we decided he would go to Texas with her. I didn't see him for two months – until Thanksgiving. But everything I did, I did so I could create a better life for him."
Her mother, Tasha Hodge, and son were in the audience during the Nurse Pinning Ceremony.
"I know my mother is proud of me,'' Francis said. "And I'm proud of myself. It was a struggle."
What does Tyceon think of his mother's accomplishment?
"He thinks Mommy is going to be a doctor,'' she said. "Close enough."
During his remarks to the students, PSC President Ed Meadows asked all the new nurses to stand and find friends and family in the audience and applaud them for all the support they provided during the academic journey. Then Meadows applauded the students on their success.
"This is one of the most special occasions at Pensacola State College or any college that has a nursing program,'' he said. "This is a very special group of ladies and gentlemen that have partaken on a journey that has been arduous and difficult. I know you're so happy to be here now and be successful."
Of the new nurses who earned pins, 69 earned an Associate in Science in Nursing (RN) degree while 21 earned a Career Certificate in Practical Nursing. Twenty Bachelor of Science In Nursing graduates also were recognized at the ceremony.
The nurses who earned their nursing pins:
Associate in Science in Nursing
Grace Ackerman
Tiffany Alberter
Madeline Alex
Nekita Ballard
Jessica Banda
Bradley Bartling
Maegan Bilbro
Robert Black
Taylor Blagburn
Britney Boyle
Cassandra Bransten
Megan Brantley
Lakeya Coleman
Kayli Collins
Niki Correa
Allen Crabtree
Vanesa Dao
Annah Dubose
Stacie Eberhardt
Emiley Fitzgerald
Alexis Fountain
Lynnsey Garcia
Amber Garner
Gabriela Gutierrez
Emma Hamrick
Brittany Harrison
Delsan Harrison
Savanna Hess
Deandre Hodges
Dyllon Howell
Jesse Hubbell
Raina Jackson
Colin Kelley
Mackenzie Kent
Lauren Keppel
Emily Laird
Indya Lewis
Brianna Lindsey
Erica Little
Tracey Locke
Alisha L'Orange
Baylee Loucks
Cori Luster
Raven Macon
Kenneth Malpica
Kelly Martin
Armoni May
Rayauna May
Justin McKay
Cortney McWhite
Sarah Moses
Mame Ndour
Andrew Nicolle
Shelby Phillips
Teala Reguindin
Myeshia Rich
Faith Richards
Lakayla Robinson
Kristina Rodgers
Ashley Ruland
Adrienne Sherrill
Lillian Stewart
Joshua Tays
Ian Tolbert
April Vaughan
Samantha Whiten
Lindsay Wilkinson
Tyra Woods
Kirsten Yuhasz
Career Certificate in Practical Nursing
Kayla Bostic
Sherry Callicutt
Teniquah Francis
Lashandra Gaskin
Lyndsey Henderson
Kacie Irovando
Tori Marsh-Bergosh
Dominoque McNeil
Elizabeth Moffett
Crystal Morton
Cybreun Nickson
Chrystia Robinson
Daina Schettini
Julie Schutt
Asia Sharp
Jaquera Simpson
Lonell Smith
Roxann Stake
Brittany Vines
Katisha Williams
Victoria York
Bachelor of Science in Nursing
Amanda Caballero
Erica Catanzaro
Amanda Davis
George Demarco
Elizabeth Equihua
Katie Harkness
Darya Harris
Leah Heck
Sarah Krumm
Heather Lhuiller
Ceanna Martin
Carley Pope
Trisha Queen
Torri Robinson
Shamekia Sigler
Matthew Smidt
Rebekah Stevenson
Ayana Thompson
Eric Tisdale
Ashlea Wattenbe