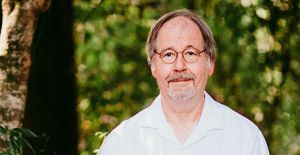 Published: 05-20-2020
Troy Moon, Pensacola State College
Pensacola State College music instructor and noted composer Michael Coleman has a beautiful Steinway grand piano in his home.
And even though he is a finalist for an American Prize award for his composing, Coleman still doesn't get first dibs on the piano.
That goes to his wife, noted performer Kadisha Onalbayeva, a celebrated pianist who has performed in Carnegie Hall. Of course, she did perform some of Coleman's own music at the 2018 concert, along with her own compositions as well as music by other composers.
"That was quite an achievement,'' said Coleman, a PSC music instructor since 1993. "That's one of the ultimate venues to perform in and I was tickled she was playing my music. I was so incredibly proud."
Another achievement is his selection as a finalist for 2020 American Prize in the Instrumental Chamber Music category for his "String Quartet No. 1" composition.
The American Prize is an annual competition held by Hat City Music Theater, a nonprofit arts organization in Danbury, Connecticut. The winners of the prestigious award are expected to be announced next month.
Coleman's "String Quartet No. 1" also will be performed and released by the Amernet String Quartet – the Ensemble-in-Resident at Florida International University in Miami.
A Fairhope, Alabama, native, Coleman was "encouraged" by his parents to pursue piano at around age 9.
"They wanted me to do it, and at times I wanted to do it,'' he said. "Other times, I would have rather been playing outside in the yard."
But as he kept performing and learning, he decided he would "try to make it a profession as much as I can."
After graduating from Fairhope High School in 1973, Coleman attended the University of South Alabama where he earned his undergraduate degree in music theory, then went to the University of New Orleans to attend graduate school. He earned his doctorate degree at the University of Maryland, studying under composer Lawrence Morris, who is still one of Coleman's closest friends. (He also remains friends with UNO instructor/composer Jerry Sieg and has performed with both musicians at various festivals and concerts).
Coleman teaches music theory, music appreciation, ear training and composition classes at PSC, where his wife previously was an instructor. Onalbayeva is now director of piano studies at the University of Mobile.
He believes PSC offers music students a top-notch education, yet far less expensive that what they would pay at other colleges and universities.
"It's got to be one of the best two-year music programs in the region,'' he said. "We have a gifted faculty who are great musicians and performers themselves. I'm privileged to be part of that group."
He said, for him, teaching and working with students "energizes (his) thought process."
"I really enjoy that interaction with the students,'' he said. "Watching them grow and improve at each step is what it's all about."